Podcast: Play in new window | Download
Subscribe: Apple Podcasts | Android | Email | RSS
Podcast (gntshow): Play in new window | Download
Subscribe: Apple Podcasts | Android | Email | RSS
24 Hours of G & T: Hour 20 – Podcasters Feud
We had a great time playing Podcasters Feud!
Our show is ready to download here.
24 Hours of G & T: Hour 20 – Podcasters Feud
One of our best times during the 24 Hours of G & T was when we played Podcasters Feud. This was a Star Trek version of the Family Feud game. So we had a lot of participation. First of all, Sunseahl represented Straight Outta Gallifrey. And Ross represented Live Love Play. Furthermore, Bud represented Tribbles in Ecstasy and Mark came in from the Priority One podcast.
Podcasters Feud
So, if you know how to play the old game show, Family Feud, then you know exactly what we did. Allen did a great job getting together a survey for this game. Did you participate? We tried to determine the most popular answers for questions such as, Aside from Kirk and Spock, who has captained the Enterprise? And which planets are only found in the Star Trek universe? The G & T Show walked away with the win although it was touch and go there for a while. Those other podcasters knew so much!
Prizes and Winner This Hour
Oops, hey wait a second. We didn't have a prize this hour? Really? So will this .gif of a facepalming Picard work for you, dear reader?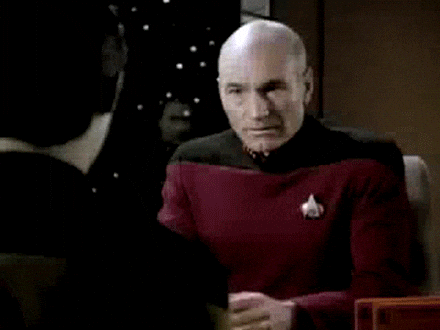 And do you want the specifics? Be sure to listen!
Thank you!
Thank you so very much for listening! And we're onto the next hour. So stay tuned!
Finally, thank you, our audience. Because you're why we are here. We do this for you.
Show Note URLs
Finally, please check out these links for this hour!
Our Productions!
And while you're here, please check out all of our great productions.
Jespah (Janet) is our Social Media Director. She has her Master's in Communications (Social Media) from Quinnipiac University and is one of the Klingons of Long Island. She's a retired lawyer, too.

She's also a published author (Untrustworthy, published by Riverdale Avenue Books; QSF Discovery 2 Anthology, published by Mischief Corner Books; and The Longest Night Watch Anthology 1 & 2, published by Writers Colony Press), and a prolific fan fiction writer. You can find her adding her fanfiction to our forums, or live tweeting our show.

We understand that she can be bribed with pie.
Latest posts by Janet Gershen-Siegel (see all)