Podcast: Play in new window | Download
Subscribe: Apple Podcasts | Android | Email | RSS
Podcast (gntshow): Play in new window | Download
Subscribe: Apple Podcasts | Android | Email | RSS
The G & T Show episode 24 is now available for downloading. This week Nick and Teri discuss the new documentary by Rod Roddenberry, Trek Nation, with special guests StarTrekGirl and Xander. Before getting into it, they talk with StarTrekGirl. They follow up with a new Ask Dayton #8 – Twins: The Untold Story.
Nick is still looking for entries into his Kill Terry Shull contest. If he doesn't get more entries posted, next week he'll be singing songs from Grease. So post your stories in our forums by 11:59pm on December 31st. Speaking of next week, Teri will be out of town, and Xander will keep
her seat warm until she returns. StarTrekGirl's favorite Trek novel is Imzadi by Peter David. Then, Teri reminds us that Michael Martin's interview is coming soon, so post your questions for him on our forums.
Following this week's Ask Dayton, they give us a Star Trek Las Vegas update: Walter Koenig (Chekov) will be there. They also mention briefly William Shatner's Raw Nerve, which leads to the YouTube video interview with Shatner where he compares Star Trek and Star Wars, the Carrie Fisher response, and Shatner's rebuttal. Nick reminds everyone to tune into his show Impressions of Sound Wednesday nights at 9PM Eastern.
They begin the Trek Nation discussion with a number of notable squirrel moments, such as Degrassi Jr. High, Dayton Ward joined the chat room, and Nick's revelation that he's never seen Lord of the Rings, but has sat through all of the Twilight movies. Returning to the documentary, they point out as highlights the Michael Pillar, Ronald D. Moore, Rick Berman, and the JJ Abrams' segments. Watch the interviews cut from the documentary on YouTube here.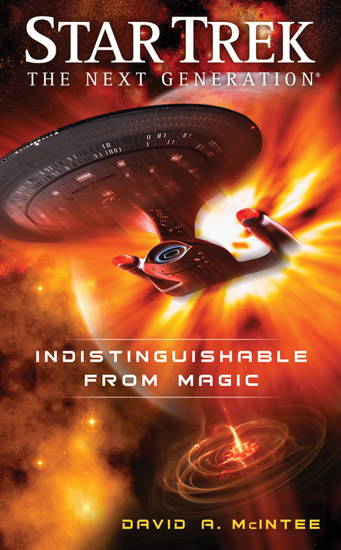 The discussion devolves into a brief discussion of Star Trek porn and the reason why holodecks were invented. Teri then shares with us a tweet from Mary Czerwinski with a photo of 2 Dehners (Mary Czerwinski with Sally Kellerman). Support Mary Czerwinksi's Make Me Dehner. Also, Nick has finished reading David A. McIntee's Indistinguishable from Magic. He tells us a little about it without spoilers. He recommends the book.
Teri announces that a new book has been published. The book of Opposites is a Star Trek TOS Baby Book.
You can read about it on Tor or get it from Amazon.com. With that they return to talking with StarTrekGirl and ask her thoughts on JJ's Star Trek movie. It leads them to a discussion of the news for next movie which is due to be released in May of 2013.
Finally, they end this week's show with Nick reminding everyone to post their stories on how they would kill Terry Shull for a chance to win a caricature by David Reddick. He also reminds everyone that Teri's Fan Fiction Contest is still going on as well and to get your stories in by January 31st for a chance to win the Star Trek Original Movie Collection on Blu-Ray.
Teri finally announced that she is now the new columnist for Star Trek Online for Massively.com. StarTrekGirl wants everyone to check out her YouTube Channel, Twitter, and Facebook page. Xander can be found as on all of your favorite social networking sites as XanderZones, check out Holosuite Magazine and his show Tribbles in Ecstacy on Firdays at 6pm.
Related articles across the web
Mike Medeiros is a great storyteller in his own mind. He's been known to put words to page and sometimes, he even turns them into audio stories for himself, his friends and the occasional stranger that stumbles upon his stuff by accident. He has written, writes, and will write for Gates of Sto'vo'kor, Blood of the Neirrh, Star Trek: Starfinder, The Klingons of Long Island, Reality's Edge, and Zygerus. Some of his stories and other writings have materialized on websites and forums for the G & T Show, Priority One, ScienceFiction.com, Star Trek Online, and even Star Trek.com. He's written a few playable missions for Star Trek Online and has even had a couple of them spotlighted. He keeps saying he's working on a novel, but is he really? A comic book is more likely. If only he could make money flinging ink at the screen, he'd be a happy camper.
But, wait. There's more.
He is the co-owner of Busy Little Beaver Productions and is the producer and co-host for G & T Show and Gates of Sto'vo'kor. He's directed voice actors, and produced and edited audio podcasts and dramas because he doesn't have the face for video. He plays well with others and is always on the look out for the next project, the next thing, the next next. If he wasn't working on something with a half dozen other projects waiting in the wings, somebody please check to make sure he's still breathing.
During the day, he's a mild-mannered computer repair man who dabbles in web design in his small, rural, Central California community. He lives with his lovingly dysfunctional family and loyal canine companion and spends most of his time in the closet concocting some hair-brained scheme or another. He's got an unhealthy obsession with Lego video games, Klingons, and Star Trek Online that borders on the neurotic.
Despite all this, he still finds the time to write the words. Find out what he's doing
here
.
Latest posts by Michael Medeiros (see all)