Podcast: Play in new window | Download
Subscribe: Apple Podcasts | Android | Email | RSS
Podcast (gntshow): Play in new window | Download
Subscribe: Apple Podcasts | Android | Email | RSS
G & T Show 29 – Larry Nemecek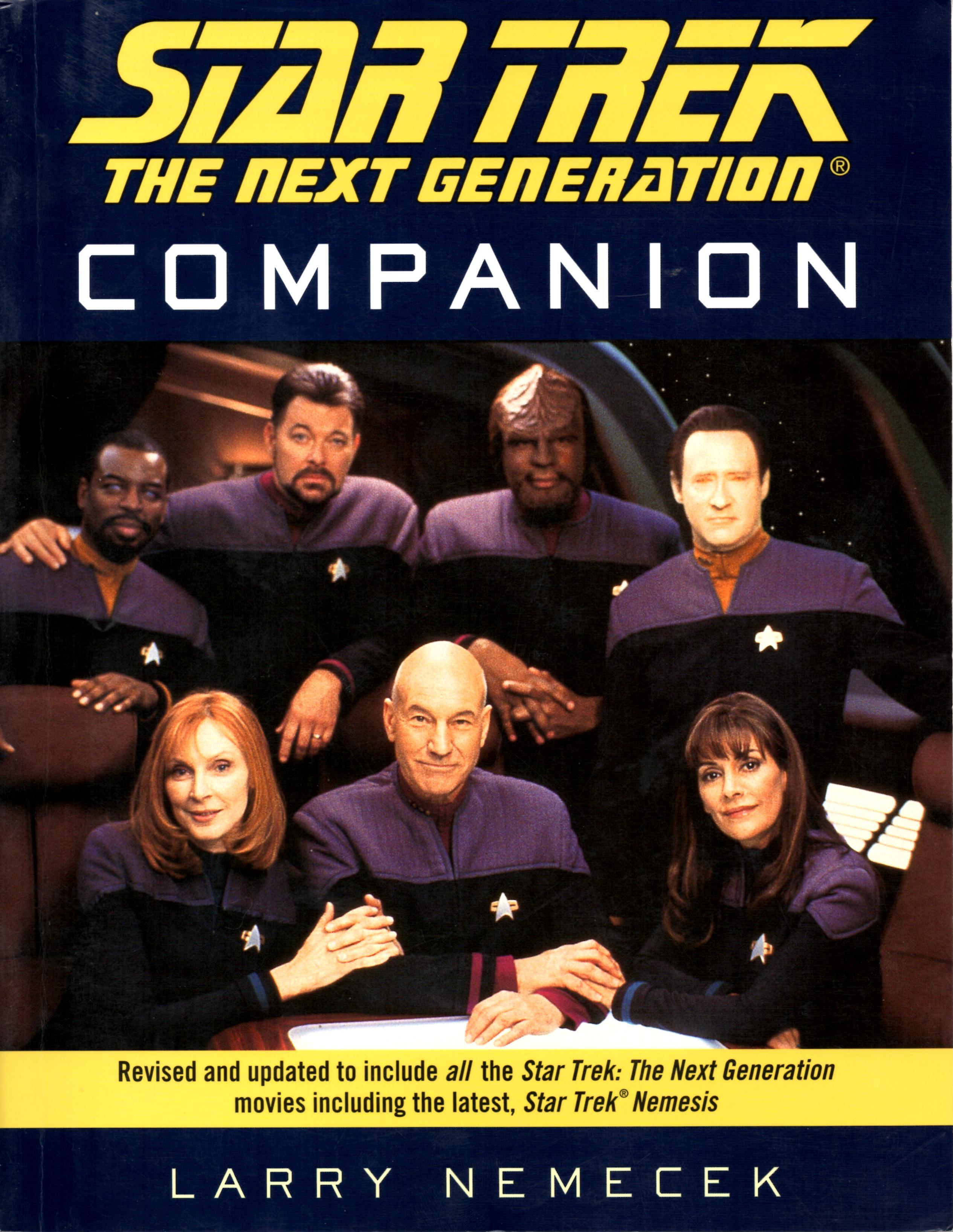 G & T Show episode 29 is now available for downloading. This week Nick & Teri have a new Ask Dayton #15 Dayton's Top 10 Hotty Travel Companions To Risa AND Beyond, and a live interview with Larry Nemecek for you. They've also got STLV and Star Trek 2 news as well. So, give it a listen here. You know you want to …
Nick starts off this week's show by describing the week he has had, starting with a short trip down a flight of stairs and culminating with an ongoing bout with the Norovirus. We're glad that he's ok, and that he gets over the pesky bug soon. Excited about the upcoming interview with Larry Nemecek, Teri tells us about her two copies of Star Trek TNG Companion.
They move on to Star Trek Las Vegas Update. This past week, Scott Bakula, Ira Behr, and Eric Menyek (the Traveller) will be at STLV along with Robin Curtis (Saavik). The later led to a brief discussion of the Savok character as portrayed by Christie Allie and Robin Curtis.
With the impending interview approaching, they speed through this week's episode and move on to Teri's Voyager Watch. Nick is already finishing up with the first season. From Voyager, they move into this week's Ask Dayton #15 – Top 10 Hotty Travel Companions To Risa And Beyond. Without dipping too often into the main cast and the regulars, he breaks it down for us. Fascinating Yo!
Then, Teri tells us about the new toy she picked up this week. A brand new iPad 2. She hasn't picked up any Star Trek apps for it and would love to hear from you. Post your suggestions here. However, she has grabbed the ibooks app for some of her favorite Star Trek books and a Warehouse 13 app.
It prompts Nick to ask Teri if she had read the Myriad Universes books. She admits to had started Infinity's Prism, which Nick has on his Kindle. But, he's currently reading William Leisner's book. Although he loves Leisner's writing, he's finding that its not resonating with him.
Teri recommends reading the Titan books for the diverse aliens including Huilan, who reminds them both of Stitch from Lilo and Stitch. Teri then points out that one of our chat room members, MikeyBuur is a Trek fan and a co-host on the gaming podcast, Return Fire.
Teri then informs our listeners that they are moving forward with the booth for Star Trek Las Vegas with Trek Radio.net. Soriedem will be joining them at their booth in Vegas. From there, the conversation weaves into Star Trek 2 News with a possible spoiler from Saldana that implied that Uhura and Spock will still be together in the next film.
More Star Trek Las Vegas News is revealed. Armin Shimmerman and Casey Biggs will be performing Shakespeare, and Avery Brooks will be in concert. What a rare treat. Teri shares with us that Sir Patrick Stewart and Liam Neeson were on this week's Graham Norton show on BBC America.
CaptPFDennis kindly allowed us to play his Star Trek Online Foundry-created commercial for Vulcoden Pon Farr Relief. We hope you enjoy it as much as we did.
Which finally leads us to the Larry Nemecek interview. During the course of the interview, they discuss Larry's Star Trek The Next Generation Companion, Voyager, TNG, Star Trek Wall-o-Episodes, the Con of Wrath, and more.  The TNG Companion is now only available in e-format. Please support his Con of Wrath documentary. You can follow what he's up to on his blog, facebook, and twitter. Thank you Larry for coming on the show live. We greatly appreciate it.
Related articles across the web
Mike Medeiros is a great storyteller in his own mind. He's been known to put words to page and sometimes, he even turns them into audio stories for himself, his friends and the occasional stranger that stumbles upon his stuff by accident. He has written, writes, and will write for Gates of Sto'vo'kor, Blood of the Neirrh, Star Trek: Starfinder, The Klingons of Long Island, Reality's Edge, and Zygerus. Some of his stories and other writings have materialized on websites and forums for the G & T Show, Priority One, ScienceFiction.com, Star Trek Online, and even Star Trek.com. He's written a few playable missions for Star Trek Online and has even had a couple of them spotlighted. He keeps saying he's working on a novel, but is he really? A comic book is more likely. If only he could make money flinging ink at the screen, he'd be a happy camper.
But, wait. There's more.
He is the co-owner of Busy Little Beaver Productions and is the producer and co-host for G & T Show and Gates of Sto'vo'kor. He's directed voice actors, and produced and edited audio podcasts and dramas because he doesn't have the face for video. He plays well with others and is always on the look out for the next project, the next thing, the next next. If he wasn't working on something with a half dozen other projects waiting in the wings, somebody please check to make sure he's still breathing.
During the day, he's a mild-mannered computer repair man who dabbles in web design in his small, rural, Central California community. He lives with his lovingly dysfunctional family and loyal canine companion and spends most of his time in the closet concocting some hair-brained scheme or another. He's got an unhealthy obsession with Lego video games, Klingons, and Star Trek Online that borders on the neurotic.
Despite all this, he still finds the time to write the words. Find out what he's doing
here
.
Latest posts by Michael Medeiros (see all)