Podcast: Play in new window | Download
Subscribe: Apple Podcasts | Android | Email | RSS
Podcast (gntshow): Play in new window | Download
Subscribe: Apple Podcasts | Android | Email | RSS
G & T Show 30 – Fake Outs and Skyping
G & T Show 30 – Fake Outs and Skyping is now available for download. Get it here. This week Nick and Teri are not here. However, they pre-recorded an episode on Friday for our loyal listeners. They discuss a variety of topics, including Star Trek Online's Second Anniversary Events, a recent interview with Bob Orci, and the Myriad Universe among other topics. Regrettably, there is no Ask Dayton this week. It will return next week.
Nick is away this weekend on Army Reserve Duty to meet his new Commanding Officer. As a result, this episode was pre-recorded on Friday. They share their most notable events of the week with us, including the trouble Teri had earlier in the week with her Internet connection that prevented her from doing her piece for Alpha Waves Radio and Podcast UGC. Nick explains how he had to come to Teri's rescue by relaying a message to Hav for her.
Moving the show forward, Teri revealed the winners to the Teri's Fan Fiction Contest. Since she only had two entries, and enjoyed both fantastic stories, she decided to make this easy and awarded the Star Trek Original Movie Collection Blu-Rays to both entrants. Congratulations to Fullback, and Soriedem (yours truly). Feel free to read the winning entries here. Nick, on the other hand, had a few more entries and has decided to take a little extra time to choose a winner. No more entries are to be accepted at this time, but feel free to read the entries and tell us what you think. Teri admits that she has been in a bit of a snit lately. Nick had noticed it during his show, Impressions of Sound this past week. Then, he reminds everyone to tune on Wednesday at 6pm PST / 9pm EST on CerberusFilms' Livestream.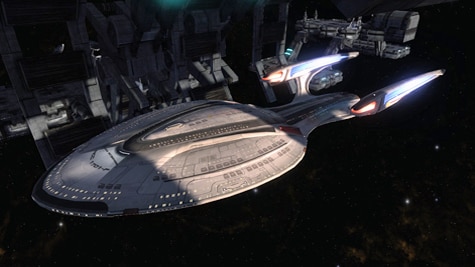 After finally admitting that this episode was pre-recorded, they began telling us about Star Trek Online's 2nd Anniversary Event going on this weekend. The first of many Skype issues during this episode reared it's ugly head. Once Nick was able to get in a word in, they returned to the topic at hand. Teri begins by describing the Odyssey Class mission that rewards every STO player able to complete the mission with a free tier-5 Odyssey Class ship conceptualized by Adam Ihle in Star Trek Online's Design the Next Enterprise Contest. Nick revealed that all four of his characters have completed the mission and in some cases in roughly six minutes each. He later goes on to thank Cryptic for making it easy for players to obtain the Odyssey class ship. Teri, then, mentions that the Klingon players were not excluded from the festivities and were able to receive a Bortas class ship for doing a similar mission.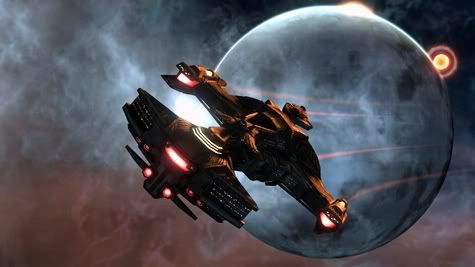 Q, as with most Cryptic events, is also involved in the STO Anniversary event, and is up to his usual mischief. This time, he has found a way to create mini-me versions of himself and scattered them throughout the Klingon Military and Starfleet Academies. It's up to you to chase the party-crashing mini-q's away for your choice of a fiery party-popper, some dilithium, or a mystery box that may contain a party popper from year one, a 1 hour skill bonus, or a random blue or purple item. Nick chases a squirrel and revealed that his Winfield character has over 100k in dilithium ore.
While Nick deals with more Skype issues, Teri tells us about STO Player RachelGarret's spectacular tribute video for STO's 2nd Anniversary. If you haven't seen it yet, what are you waiting for? Also, this week, Cryptic released the Official trailer for STO's upcoming Featured Episode series, The 2800, which runs from February 11th through March 10th, featuring the return of the Dominion.
http://www.youtube.com/watch?v=B5znfFotn0A
Then, Nick thanked Soriedem for all of the work put into the website, forums, and the show producing the best podcast possible for our audience. It provided an opportunity for Nick to reveal that since our last episode, our forum membership has significantly grown. Welcome to the G & T Show! Both Nick and Teri are excited to have all the new people joining our little community, and encourages them to post feedback, suggestions and questions for author interviews, and of course our Ask Dayton segment. Finally, Nick thanks Larry Nemecek for coming on last week's show. At least, he did until Skype once again undermined him, requiring Teri to finish his sentiment. Thank you Larry.
They move on to this week's Ask Dayton. The question had been sent to Dayton, but he was not able to send back a reply by the time the show was pre-recorded. Sorry Dayton. Before moving on to the Star Trek Las Vegas Update, Nick shares that he has been reading some books by Alexandra Robbins: The Geek Shall Inherit the Earth, and The Overachievers. Although she doesn't write trek novels, Nick believes that her books may be relevant to our audience, so he is hoping to schedule an interview with her for a special edition of the G & T Show. Stay tuned for more details.
While Nick attempted to resolve some more Skype issues, Teri leads us into the STLV News Update. There is no news this week about new guests. However, Teri said that she had received their Captain's Chair tickets to watch Avery Brooks sing, and Hertzler and O'Reilly do the Blues Brothers. They have a brief discussion describing the differences between Gold, Captain's Chair, Preferred, and General Admission seating. Nick returns to share the news that Avery Brooks was arrested this week for a DUI. However, before moving on to the next topic, Teri drops a hint without any details on a big project that she is working on. We wait with bated breath to hear what she has in store.
Next on the agenda was Teri's Voyager Watch. Although, she had not made any new progress, they indicated that some of the members of the community have already surpassed Teri in their own Voyager Rewatches. Teri took the opportunity to ask Nick if he had ordered his Star Trek TNG The Next Level Blu-Rays yet. He had not. Teri had hers ordered, but is still waiting for them to arrive.
Star Trek 2 News is next. They completed the 2nd (or 3rd) full week of filming. Nick asked Teri about an interview with Bob Orci. Although, Teri didn't find anything of substance within the interview, Nick argued that the best part of the article was found in the comments section. Nick reads a few of the more notable comments and Orci's responses. Teri explains the script writing process and film production process while referencing Star Trek 2009 as an example. Nick compared the backlash that the Star Trek 2009 received to what Battlestar Galactica under went when Ronald D. Moore initially rebooted the franchise. Teri praised Bad Robot for taking Star Trek in a new direction in order to appeal to a younger generation. She stated that in today's environment traditional heros such as Kirk and even Luke Skywalker wouldn't be accepted by audiences. Then, Nick reached into his bag of wrestling factoids and drew a correlation to the premise of the anti-hero as a popular theme.
Teri even goes as far as saying that Kirk's treatment of Nero went against the grain of who we know Kirk to be. Returning to the article, she then commented on the importance of a script to be timely, especially for a Star Trek film.
Nick moves us along by bringing up Infinity's Prism, an anthology of stories, which deals with the Myriad Universe. He's completed A Less Perfect Union and is currently Reading Place of Exile and is looking forward to Seeds of Dissent by James Swallow. Hello James. He, then, tells us about the book, shares his thoughts, and admits that he's having difficulties connecting with the stories. Teri explains that the stories are essentially what if stories that portray an alternative universe if the characters in them had made a different decision than the one protrayed on the screen.
Finishing up with this week's episode, Nick tells us that the next Vanguard novel is due out in March, while Dayton Ward's new book will be released this month. Teri makes a final announcement before ending this week's show. She recommends that everyone check out CaptPFDennis and RogueEnterprise's new Foundry video-cast, Primetime UGC on CerberusFilms' Livestream on Monday nights. CaptPFDennis is was the talent behind our newest sponsor … Vulcoden: Pon Farr Relief.
Next week, Nick will reveal the winner to the Kill Terry Shull contest. Find out who done it. Teri congratulated the winners to her Fan Fiction contest, Fullback and Soriedem.
Related articles across the web
Mike Medeiros is a great storyteller in his own mind. He's been known to put words to page and sometimes, he even turns them into audio stories for himself, his friends and the occasional stranger that stumbles upon his stuff by accident. He has written, writes, and will write for Gates of Sto'vo'kor, Blood of the Neirrh, Star Trek: Starfinder, The Klingons of Long Island, Reality's Edge, and Zygerus. Some of his stories and other writings have materialized on websites and forums for the G & T Show, Priority One, ScienceFiction.com, Star Trek Online, and even Star Trek.com. He's written a few playable missions for Star Trek Online and has even had a couple of them spotlighted. He keeps saying he's working on a novel, but is he really? A comic book is more likely. If only he could make money flinging ink at the screen, he'd be a happy camper.
But, wait. There's more.
He is the co-owner of Busy Little Beaver Productions and is the producer and co-host for G & T Show and Gates of Sto'vo'kor. He's directed voice actors, and produced and edited audio podcasts and dramas because he doesn't have the face for video. He plays well with others and is always on the look out for the next project, the next thing, the next next. If he wasn't working on something with a half dozen other projects waiting in the wings, somebody please check to make sure he's still breathing.
During the day, he's a mild-mannered computer repair man who dabbles in web design in his small, rural, Central California community. He lives with his lovingly dysfunctional family and loyal canine companion and spends most of his time in the closet concocting some hair-brained scheme or another. He's got an unhealthy obsession with Lego video games, Klingons, and Star Trek Online that borders on the neurotic.
Despite all this, he still finds the time to write the words. Find out what he's doing
here
.
Latest posts by Michael Medeiros (see all)