Podcast: Play in new window | Download
Subscribe: Apple Podcasts | Android | Email | RSS
Podcast (gntshow): Play in new window | Download
Subscribe: Apple Podcasts | Android | Email | RSS
G & T Show 35 – NX01: Rise of the Tribble Squirrels
G & T Show 35 – NX01 – Rise of the Tribble Squirrels is now available for downloading. Give it a listen here. This week, Teri is in California visiting her nephew Hayes and interviewing some developers from Cryptic Studios. Nick has invited Xander and Soriedem to join him on the show to discuss the latest STLV Update, an all-new Ask Dayton, and more. While Teri is away, the boys will play.
We kick off this week's show with a song, The Boys Are Back In Town by Thin Lizzy. Nick tells us that Teri won't be joining him and proceeds to introduce his guest hosts: Xander from Holosuite Magazine and the Tribbles in Ecstasy Podcast, and Soriedem (Mike) from the G & T Show and Gates of Sto'vo'kor. Nick's son, Mathew is in the chat room. Xander addresses Matthew and praises Nick for both his shows, the G & T Show and Impressions of Sound, and shares some of his thoughts and shares a little history about himself including his time with Red Shirt Army, the development of Holosuite Magazine and the studios that G & T Show uses to record our episodes, and the Tribbles in Ecstasy podcast, which is simulcast on three stations at the same time (Trek Radio, Subspace Radio, and Blade Radio). He asks when is our show replayed on Trek Radio.net? Nick believes it airs at 3am EST, Midnight PST on Trek Radio.net. Xander is broadcasting from the Netherlands.
Mike (Soriedem) is our Scotty, he keeps the ship afloat. Mike was on last week's show, but just in case you missed it, he's the creator of the Gates of Sto'vo'kor podcast / radio drama about Star Trek Online's Klingon Faction. Nick comments on Xander's usage of Awesome sauce. Xander, then, explains that the term originated from the Teenage Mutant Ninja Turtles, which dates us. After everyone states their ages, Xander kicks off a discussion about Generation X. Nick takes a moment to say hello to his daughter, Anna, in the chat room, who recently turned 9. They wished her a belated birthday before Nick continued with Wikipedia's definition of Generation X, a term coined by Robert Capa, in a photo essay about people born after the second world war. In the 60s and 70s, the term was co-opted to refer to a group without a sense of identity and more specifically to early punk rockers. In the late 80s, it was used to describe young adults and their lifestyles.
Nick mentions that the show is dolphin-free, which prompted Xander to ask where the squirrels came from. Nick explains that the term squirrel refers to the dog in the Pixar film "UP" that will often stop mid-task whenever a squirrel or some other distraction caught its attention. Xander mentioned that it has begun spreading to his show as well. He, then, asks where do the dolphins come in. Nick explains that we do not harm dolphins in the creation of our show. Nick mentions that Xander has Tribble squirrels running around his show, and wonders what does a tribble squirrel look like? They speculate on this for a moment.
The discussion inspired Nick and Xander to initiate a pair of new G & T Show / Tribbles in Ecstasy cross-over contests. For the artists in our communities, send us what you believe a tribble squirrel looks like; while the fan fiction writers out there can put together a Star Trek children's story featuring a tribble squirrel. Then, we'll put them together into eBook format. The closing date and prizes will be revealed later, once Nick has had a chance to tell Teri about it. Surprise Teri!
Nick suggests NX01 – Rise of the Tribble Squirrel as the title for this week's show. Xander puts forth Franken-Tribble. Nick's imagination is already off and running. He is looking forward to reading these, and hopes for far greater participation than our last contest. Xander sings the Brady Bunch theme song after thinking about where the Tribble Squirrel could have come from. When Mike said that he was going to have some nightmares now, Nick offered to sing some Grease, which prompts Xander and Nick to sing a duet of Summer Loving. Nick throws out another title suggestion, Generation Squirrel. Mike suggests that later they play Title Bingo to determine the title to this week's show.
They move on to this week's Star Trek Las Vegas Update. Three new people have been added. Celeste Yarnall (Yeoman Martha Landon from Star Trek TOS The Apple), Richard Herd (Admiral Owen Paris from Voyager and L'Kor from TNG's Birthright), and Natalija Nogulich (Admiral Alynna Nechayev from TNG and DS9) will be in the vendor's room signing autographs for a nominal fee. Nick notes that there's still no Jellico. Teri loves Cox. He goes on to ask what we could do as a community to get Ronny Cox to STLV. Mike and Xander suggest a Twitter campaign, so direct the hash tag #CoxForSTLV to @CreationEnt on Twitter.
They talk about Ronnie Cox's role in the episode Chains of Command. After all, Jellico was one of the Captains of the Enterprise; although it was for only 2 weeks. Xander asks if Jellico had remained Captain of the Enterprise over the long term, was he Enterprise Captain material? Nick believes that he was and explains that we also see a softer side to his character when he's talking about his son, but they were facing the possibility of a shooting war and he had to get his ship ready quickly. Xander suggests naming this week's episode "We want Cox" based on Mike' suggestion. Nick announces that he is now following Creation on Twitter.
Xander asks if Nick or Soriedem have played the final episode in Star Trek Online's Featured Episode series. Mike shares his experiences of the cut scene when the new Enterprise F appears. Nick admits that he has not played it and that he's lost interest in the game due to the yearlong content drought followed by the economic changes. Xander explained how he thinks that Shon, the Enterprise's Andorian Captain, is based on Jellico. He goes on to say that he didn't think that Shon seemed like Enterprise Captain material, which prompted his original question concerning Jellico. He and Mike both encouraged Nick to play the mission.
After Nick shares what led to his current attitude towards the game, Soriedem says that it may be just thing he needs to reignite his love for the game. He goes on to mention that it seems a little buggy when played with other people, but it is well worth the effort to play it solo. Xander shares how he had noticed the community begin to shatter because of the content drought and decided to do something about it. He created Holosuite Magazine and the Tribbles in Ecstasy talk show in order to get through the content drought by not becoming frustrated with the game like many people did, but by becoming more active and trying to bring the community back together. Mike shares a similar story leading to the creation of Gates of Sto'vo'kor and his desire to increase interest in the Klingon faction. Nick agrees to give the featured episode series a try this week.
Nick moves us along by announcing that he's finished reading Dayton Ward's Star Trek That Which Divides. Before telling us about it, he wishes Dayton Ward a Happy Anniversary. He says that it ties together with the Star Trek TOS episode That Which Survives. Nick was extremely happy with Dayton's take on the Romulans. Nick's one complaint with the episode is that the only person that dies (off-screen no less) is a Red shirt named Nick Minecci, who deserved a better death than that. So in his honor we present to you Spock's Funeral.
http://www.youtube.com/watch?v=vtQUePN5y40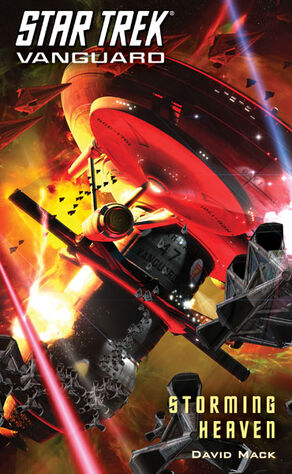 Dayton has now killed both Nick and Teri in novel form. He goes on to mention that StarfleetMom, April Hebert, and the guys from SciFi Diner also made their way into the book. On the 29th, the final Star Trek Vanguard novel by David Mack, Storming Heaven, will be released. Nick can't wait to get his hot little hands on the book in hard copy and on his Kindle. Xander asked how much do eBooks cost. Mike states that most new books in Amazon's store are in the $6 to $7 range. Xander will have to pick it up on his Samsung Galaxy Tab. He performed some exhaustive research before he decided on the Galaxy Tab. Skype issues interrupted him, when Nick was trying to explain that the Galaxy Tab was one of the devices he was considering before settling on the Kindle. Xander continues to describe the various versions of the device to us. He recommends getting the Galaxy Tab.
Other than Trek, Nick is currently reading and highly recommends David Hughes' Tales From Development Hell – The Greatest Movies Never Made. He shares some of his experiences with the book and some of the movies that it talks about, including the revisions and troubles with Tomb Raider and Batman Begins. Speaking of Christopher Nolan, Nick says that he recently looked up his directing credits on IMDB and realized that there's nothing that he's done that he doesn't love. However, he hasn't seen Insomnia, which Mike mistook for the Stephen King novel with the same name. Nick goes on to say that Memento is an incredible movie. Xander describes how it consists of two films edited together to tell the story. The Black and white film is the beginning, while the color film is end. It reminded him of another film, Mulholland Drive. Nick pulls the conversation back on track by mentioning the Star Trek Enterprise episode, Twilight, where Archer is infected with interspatial parasites that causes him to lose his memory every day.
Nick returns to Tales From Development Hell and shares some of the chapter titles with us. Notably, he tells us about Total Recall's sequel which was supposed to be based on Minority Report. It wasn't going to be a traditional sequel, picking up where the last one left off, but instead, it was to be another film taking place within the same universe. Mike references the Jurassic Park novels, where each book has a number of common threads, but each stood apart from the other. Continuing on, Nick says that the most depressing chapter in the book discussed the Sandman movie that broke down when they attempted to condense over 70 comic book issues into a single movie. He compares the difficulty of the task to Peter Jackson's Lord of the Rings films, who had to distill Tolkien's novels into 4 massive films. He goes on to describe a situation in Planet of the Apes that illustrates how dysfunctional of Hollywood's movie making process.
Nick brings up the book, The Hot Zone, which is based on a true story that takes place on the base where he works at Fort Detrick, Maryland, the home to the United States Army Research Institute of Infectious Diseases, where diseases like Ebola and others are studied. During the late 80s and early 90s, there was an airborne Ebola outbreak at a monkey house in Virginia. He shares the story with us. The hardest part of writing the script was the fact that no human died. Some stubborn technical difficulties interrupt Nick. When they are resolved, Nick recommends that everyone checks out Tales From Development Hell. David Hughes has another book, The Greatest SciFi Movies Never Made, but it's not on Kindle yet.
Before he moves us along to this week's Ask Dayton #20 – Fishnets For the Win! Nick tells us about a poll on Dayton's website to pick your favorite out of the previous nineteen Ask Daytons. Mike saw it and voted. They each share their votes. Xander chooses Ask Dayton #14 – Star Trek vs. Star Wars for the definition of a metric fuck-ton being fifty shit-barrels more than an ass load. Mike gave an honorable mention to Ask Dayton #16 – Core Bound and Down, but went with Ask Dayton #11 – Dayton, Accept No Substitutes. We finally move into Ask Dayton #20 – Fishnets For The Win! They take a moment to thank Dayton and our audience for their sick and twisted minds. Keep your questions coming in. You can post your questions on our forums, email them to [email protected], send us a tweet with it to @SundayGandT, or post it to our Facebook page SundayGandT.
Xander asks what they thought of Nemesis. It's his favorite one. Then, he asked why Starfleet would design an all-terrain vehicle with wheels (the Argo). Nick responds and says that the Argo was only one of the problems. Shinzon could have been a khan-like villain, but his actions and motivations didn't make sense. Nick mentions Star Trek 2009 as having a similar failing, and Xander explains that Nero's motivations and actions against Spock and the Vulcans is revealed in the countdown comics. But, it's unreasonable to assume that everyone that goes to see the summer blockbuster will have read them. They talk about his vendetta against Picard and how he managed to build the scimitar in secret.
Nick says hi to his children who are still listening. The one redeeming quality for Nemesis was that it gave us Donatra for the novels and Star Trek Online. Nick says that Tom Hardy and Eric Bana were wasted as actors. It reminded Xander of the Movie This means War, which had Tom Hardy and Chris Pine. Keith DeCandido wrote the Gorkon Novels. Mike has not read them, but has them on his ereader. Keith is in the middle of his Star Trek TNG Rewatch on Tor.com. This week, he rewatched Season 4's Reunion, a very Klingon heavy and atypical episode for TNG, because it showed very little of the crew and instead focused on Worf, Picard, and the Klingons. Mike shares his thoughts on the episode and the impact it has for TNG and DS9. It creates the tension between Worf and Gowron that we see throughout both series. He goes on to speculate about the path the Empire may have followed if Duras had become Chancellor.
Xander shares that he doesn't like the way they imposed fatherhood onto Worf through Alexander. In the episode Emissary, Worf and K'ehleyr hook up, and Alexander is conceived. However, two years later when we meet Alexander for the first time, he appears much older than his actual age would suggest. We see him a few more times throughout TNG and he seems to age a little more consistently until we see him again later in DS9 where he appears to be in his teens. Mike mentions what the chat room is saying about Klingons growing quickly, and he agrees that it is conceivable that Klingons mature much more quickly than humans. Nick mentions that Worf becoming Ambassador to the Empire for the Federation takes him full circle to K'ehleyr . Mike explains that Worf has always been a romantic and that as his first mate, she would always have been a part of his life or love, and that he would have done the honorable thing to carry on her work. Xander says that at the end of DS9, Worf becomes Ambassador, yet in Nemesis, we find him on the bridge of the Enterprise as Picard's Tactical Officer. Nick and Mike chalk it up to Senate Confirmation or paperwork delays.
While Nick Skypes out, Xander remembers that Susie Plakson, the actress that played K'ehleyr , also played the Vulcan, Dr. Selar during TNG's Second Season. He goes on to say that one of Star Trek Online's artists had created some artwork of a Vulcan Science Officer wearing the open Jacket uniforms that looks like Dr. Selar. Nick says that the character of Dr. Salar appears in Peter David's New Frontier novels as the Chief Medical Officer onboard the Excalibur. Nick has a thing for Vulcan women, especially ones played by Susie Plakson. Returning to Reunion, Kmpec forces Picard into being the Arbiter of Succession to discover who had poisoned him, since he couldn't trust any klingon to do it impartially. Xander notes that Kmpec died of Veridian 6 poisoning, and in Generations, Kirk dies on the planet Veridian 6.
Nick goes on to mention that Worf's decision to kill Duras, despite everyone trying to stop him, is counter to what most people would expect from Star Trek. They speculate as What Gene Roddenberry would have thought about that. Then, Nick asks if episodes like that enriched the star trek universe. Mike agreed, while Xander explains that Gene wouldn't have created an episode like it, based on what he had previously done with TOS, the films, and TNG. Nick goes on to say it's episodes like Reunion that made DS9 so special, because it wasn't all about the crew. Instead, it allowed DS9 to focus on the Bajorans, the Cardassians, the Founders, and the other species that inhabit the Star Trek Universe. It was an approach that could not be reproduced with any other series.
Mike asks if the planning phase for the DS9 series was going on around the time that the Reunion episode was aired. DS9 started the week after Chains of Command, so its planning should have been going on around this time. Mike thinks that this episode was part of their plan to set up the events that would ultimately play out within DS9. Roddenberry had already given up the reigns to TNG to Michael Piller and Brannon Braga by the end of Season 2. Xander asks if Roddenberry would have allowed DS9 to be created. Mike thinks, that he would have had some say or at least been in the loop during the initial planning process. Technical difficulties return, while we resolve the issues we switch to another one of CaptPFDennis' commercials: Khell'agh's Racht Bites.
With the issues resolved, Xander gets us back on track by asking about whether or not Roddenberry would have approved of the more xeno-centric series that became DS9. Nick says he did approve DS9's concept. TOS was pitched as Wagon Train to the Stars, while DS9 was the Rifleman in Space. However, Nick feels that he would not have allowed the Dominion war to proceed as it did. Mike thought that if Gene was clear headed enough, he would have at least approved the general storylines for at least the first season or two. Nick believed that he would have approved Voyager much quicker than he would have approved DS9. Speaking of Voyager, Xander wondered if Teri had made any progress on her Voyager Watch. More technical difficulties prompt Nick to use his Batman voice again. With everything that's going on this week, it was doubtful. Here you go Xander, Teri's Voyager Rewatch sweeper, just for you.
Mike asks about news for Star Trek 2. He didn't see any, but also noted that TrekMovie hasn't been updated since March 7th. He also checked other sites, but found nothing notable to discuss. Mike wonders if the leaked video put them into black out mode. Xander didn't hear about the video and will have to go look for it. Since then, the video has been pulled down from the Internet. Nick checks on his kids. Nick is pleased that this episode was much better than the last one he had to do without Teri. Xander says that it was one of his favorites, because Nick reminded him of when he first started podcasting. Nick turns his attention to the chat room and recommends that they check out the finished version of the episode to hear all of the stuff that Mike adds to the episode. Mike shares a few of the planned additions to the episode including the Spock Funeral scene in honor of the fallen Nick Minecci in Dayton's Star Trek That Which Divides.
Before ending this week's show, Xander talks about Mike's season 2 push for the G & T Show. Warp 11 provides music to his show as well. He was so impressed with the work that he has done, that it inspired him to obtain an audio guru to give his show the same treatment. Dion is their audio engineer. Hi Dion! Tribbles in Ecstasy is now in Season 2 mode as well. They discuss a few of the ideas for the show including the addition of audio clips from the authors, the actors, and some of our fans. We love you Mary Czerwinski. Xander had a final STLV question about Avery Brooks being able to attend despite the legal troubles that he's in. Mike believes that he won't be going to jail, but instead, he will most likely go to rehab and issue a public service announcement. Xander mentions the Shatner Documentary, which prompt Nick to ask if he seemed drunk. Xander thought he seemed stoned. Nick thinks he's on a different plain that the rest of us, while Mike think Shatner never left the Enterprise. Nick disagreed and said that's Takei.
Tribbles in Ecstasy airs on Friday at 6Pm EST on all of your favorite radio stations or download it on Tuesdays on Holosuite Magazine. Gates of Sto'vo'kor doesn't have a set release schedule. They shoot for at least one episode a month, sometimes more sometimes less. But, you can find all of their episodes on their site http://www.gatesofstovokor.com and on iTunes. They're also on Trek Radio and Subspace Radio.
Before concluding this week's show, Mike reminds everyone that they need to select the title of this week's episode. He reads back some of the suggestions they had come up with during the show and presents it to the chat room to decide. Xander votes for We Want Cox, and even convinces his wife, Antida to give her vote over the air. She voted for the Tribble Squirrel. Dennis likes Franken Tribble. Fullback preferred rise of the squirrel cox. Willomally chose when Teri's away, tribbles will play. They couldn't reach a consensus, so it appears that they will make a decision later. However, Nick wanted to remind everyone about their Tribble Squirrel Contests. The first is for the artists out there to submit their concept drawing for a tribble squirrel. The second is for the writers out there to pen a tribble squirrel children's story. When Teri goes away, two contests are born. Nick thanks his guest hosts for joining him this week.
Mike Medeiros is a great storyteller in his own mind. He's been known to put words to page and sometimes, he even turns them into audio stories for himself, his friends and the occasional stranger that stumbles upon his stuff by accident. He has written, writes, and will write for Gates of Sto'vo'kor, Blood of the Neirrh, Star Trek: Starfinder, The Klingons of Long Island, Reality's Edge, and Zygerus. Some of his stories and other writings have materialized on websites and forums for the G & T Show, Priority One, ScienceFiction.com, Star Trek Online, and even Star Trek.com. He's written a few playable missions for Star Trek Online and has even had a couple of them spotlighted. He keeps saying he's working on a novel, but is he really? A comic book is more likely. If only he could make money flinging ink at the screen, he'd be a happy camper.
But, wait. There's more.
He is the co-owner of Busy Little Beaver Productions and is the producer and co-host for G & T Show and Gates of Sto'vo'kor. He's directed voice actors, and produced and edited audio podcasts and dramas because he doesn't have the face for video. He plays well with others and is always on the look out for the next project, the next thing, the next next. If he wasn't working on something with a half dozen other projects waiting in the wings, somebody please check to make sure he's still breathing.
During the day, he's a mild-mannered computer repair man who dabbles in web design in his small, rural, Central California community. He lives with his lovingly dysfunctional family and loyal canine companion and spends most of his time in the closet concocting some hair-brained scheme or another. He's got an unhealthy obsession with Lego video games, Klingons, and Star Trek Online that borders on the neurotic.
Despite all this, he still finds the time to write the words. Find out what he's doing
here
.
Latest posts by Michael Medeiros (see all)