Podcast: Play in new window | Download
Subscribe: Apple Podcasts | Android | Email | RSS
Podcast (gntshow): Play in new window | Download
Subscribe: Apple Podcasts | Android | Email | RSS
G & T Show 36 – Podcaster's Row at STLV
G & T Show 36 – Podcaster's Row at STLV is now available for downloading. Give it a listen here. This week, Nick and Teri are back with an all new show. Technical difficulties have prevented the chat room from joining in the discussion, until a backup chat room is found. However, it doesn't stop them from delivering an All new Ask Dayton #21 – Rush & The Rock and Roll Hall of Fame, a STLV Update, Star Trek 12 News, Teri's Voyager Watch, and more.
Nick starts us off with an apology to Teri for the state the studio was found in when she returned with pizza boxes and empty beer cans scattered all over the place. They talk about last week's show. Teri had read the show notes and was surprise by how much Nick, Xander, and Mike had discussed last week. There were squirrels running around all over the place. We thank Xander and his lovely wife, Antida, for helping us out. Teri asks about the Tribble Squirrel contests the G & T Show has created with our affiliate, Tribbles in Ecstasy. Before Nick could tell us about it, they resolve some volume issues. They talk about the issue with the livestream chat this week. Galactrix is working to resolve the chat room issue. They blame it on Scottish Gremlins (Cerberus, we're looking at you). With the audio issues resolved, Teri describes Tribbles in Ecstasy as our podcasting friends with benefits.
The two shows had discussed the possibility of a cross-over episode. Last week, Nick and Xander decided to go with a cross-over contest instead. Nick drops a hint that he's now working on a Super-Secret Project for next year, but quickly changes the subject to talk about the Tribble-Squirrel Contest. It has two portions. The first part is for the artists in our audience, we want you to send us your rendition of a tribble-squirrel. One entry has already been submitted and it's hideous. The second part is for the writers out there to put together a children's story involving the tribble-squirrel. He asks the authors that may be listening to participate under a pseudonym (we're looking at you Dayton Ward and James Swallow). We'll bind them together and put it out as an eBook download. The prizes for this contest have not been decided yet. They discuss some possibilities over the air, including a stuff animal version of the tribble squirrel, or Teri's suggestion of having Nick dress up as a Tribble Squirrel at STLV.
Nick explains that he already has two costumes that he's taking to Vegas. The first is his skant, and the other will be a dead red shirt in honor of the fallen Nick Minecci in Dayton Ward's latest book, Star Trek: That Which Divides. Teri shares that she's hoping to pick up a gold uniform dress from Roddenberry's store so that she can attend the convention as herself as she appeared in Star Trek Vanguard What Judgments Come. Nick explains that the G & T Show has hit the big time, since each of them has been killed in TOS-era novels. As far as he knows, he could still be alive in DS9 (Dave Mack's War Path). Nick talks about his character in That Which Divides, and is still upset that he didn't get his own memorial service, but points out that he got one last in last week's episode.
They have a lot to talk about this week, and start off with this week's Ask Dayton #21 – Rush & The Rock And Roll Hall of Fame. Nick prefaces this week's Ask Dayton by explaining that the question came from Trekov all the way in Russia. To our friends all over the world, we thank you so much for listening! Nick reads the question and Dayton's response. They discuss Dayton's response. Nick says that the Rock and Roll Hall of Fame Committee just doesn't get it. Although, he's not a fan of Rap or Hip Hop, groups like NWA and Public Enemy, which were so influential, should not be excluded. Nick mentions some of the musicians that have been influenced by Rush. Teri loves Rush, but says that the music of your formative years, tend to stick with you throughout your life. For her, it was Toto. She tells us about them, and how some bands, when they become too big, cease being cool. Nick agrees and shares a story about the Cure (one of his favorite groups).
Nick announces that there we were up to 14 people in the chat room; despite the fact that livestream's chat was not working. Teri returns us to topic, by explaining that there is nothing more heinous than an industry that shuns its own. Nick says that groups like ABBA are certainly enjoyable, but to have them be inducted into the Rock and Roll Hall of Fame while Rush is excluded is questionable. He then points out Madonna as not being rock and roll, yet still was inducted.  Teri mentions that Blue Oyster Cult played at the  Casino Hollywood in New Mexico on St. Patrick's Day. She wanted to go, but was in San Francisco at the time. While she was there, Teri visited Starfleet headquarters. Speaking of Starfleet headquarters reminded Nick of the latest Star Trek 12 News.
In the wake of the recently leaked photos and video from Star Trek 12, JJ has erected a wall of storage containers to keep people out. Nick was amazed that the shipping containers were all the same color. Teri thinks it's a lame move. She doesn't believe it. She doesn't believe the leak was undesired. She explained some of the reaction to the all photo. She praises it as a brilliant move, because a photo of a wall of containers got people talking about the movie. Nick shares some additional photos that came out this week of Zoe Saldana and John Cho in what resembles new uniforms, including a pair of boots Teri might like. He mentions that they have a slight resemblance to something seen in Star Trek Online. Nick says that the uniform could something required by the environment that the away team visits. Teri finds the entire situation hilarious.
Simon Pegg was recently interviewed by Talking Film for his latest movie, A Fantastic Fear of Everything, and they tried to get him to talk about Star Trek 12. Teri finds it funny that people keep asking, knowing full well that he won't say anything. Teri doesn't believe that JJ is actually upset about the leaks. Nick wonders if he wasn't actually upset about the leaked video. Teri says that if it was intentional, he did it to himself, by either not requiring visitors to sign an NDA or not confiscating their cellphones while on the set. However, she believes this is all part of the show, part of the genius he has for viral marketing.
Nick shares that Damon Lindelof is one of the writers for Prometheus. Nick says that he won't see a movie in 3d unless it's shot in 3d, because the conversion process. He got excited when he had learned that Ridley Scott's Prometheus will be shot completely in 3d. Teri thinks that 3d is a gimmick because it does nothing to advance a story. Teri won't be watching Prometheus, since she doesn't like horror and knows that it will be terrifying. She shares a story about the first time she saw Alien, and contrasted it with her experiences with its sequel, Aliens. Nick shares a story from his childhood about seeing Star Trek, Alien, Apocalypse Now, and so many more movies. 1979 was a great year for movies, with Kramer vs. Kramer, Monty Python's Life of Brian, China Syndrome, The Jerk, The Warriors, Rocky II, and more. Teri mentions that was a year for good stories, good characters, and no explosions.
Speaking of explosions, Teri wanted to touch upon something they had discussed last week: Teenage Mutant Ninja Turtles. She wanted to discuss the recent news about it because of what it means for Star Trek. She begins by saying that her Trek fanaticism is comparable to that experience by the fans of TMNT and other fandoms. She goes on to tell us that many Turtle fans are upset at the announcement that Michael Bay will be directing the Teenage Mutant Ninja Turtles reboot movie. She becomes flustered when she thinks about the possibility of Michael Bay directing Star Trek and feels sorry for TMNT fans, because at least JJ tries to make existing fans happy, whereas Michael Bay doesn't care about the franchise. He has already changed their origins, by making them aliens. She compares it to making Spiderman an alien. The turtles were supposed to be terrestrial creatures that we trying to make their world a better and safer place. Teri believes that Michael Bay probably dictated the change to include a shot of a turtle planet.
Since Teri mentioned Spiderman, Nick shares that he's a fan of the Sam Raimi movies and wasn't sure he'd be seeing it in the theaters until he realized that Emma Stone was playing the female lead. He admits that he has watched Easy A several times now. Teri loved Stanley Tucci in it. Nick brings up the book, Tales From Development Hell. Although, he has been slowly getting through The Hobbit, he's decided to stop at a convenient place in order to jump over to Star Trek Vanguard Storming Heaven when it's released in the next couple of days.
In the interim, he has been reading, Nicholas Meyer's (Star Trek II and others) autobiography The View From the Bridge: Memories of Star Trek and Life in Hollywood. He finds it interesting to see how Meyers got into the business and how he had no Star Trek experience before directing The Wrath of Kahn.  At the time, the only other film Meyer's had directed was Time After Time. Nick tells us about the film before returning to Star Trek II, where Meyer was selected because of a Sherlock Holmes novel he had written. He had taken the scripts and molded them into the film that we all know and love. Nick enjoyed Meyer's experiences with Ricardo Montalban. The book also talks about his experiences with Star Trek IV and Star Trek VI. Nick gives the book a solid four stars. Nick found what he had to say about Shatner and his protection of Kirk to be of particular interest. Then, there was the argument he had with Gene Roddenberry the last time they had spoken. After Star Trek II, Gene had very little involvement with the movies. Teri explains that the IP is owned by two companies that are in the business of making money for their investors. She says that it's not easy to make money from something you created. Gene loved the IP and loved what it did to the world around him, but as far as CBS and Paramount were concerned, it wasn't making money.
Checking on the chat room, Nick discovered that we had 17 people were listening live. He mentioned the chat room issues and recommended everyone go over to Starbase UGC's chat room for the remainder of today's show. Galactrix in the chat room had said that perhaps, Meyers should have been more involved in Star Trek V. Nick explains that Meyers had been given the same budget as Star Trek V to make Star Trek VI. The studio tied Shatner's hands by not giving him the money he needed to create the quality movie that Star Trek V deserved.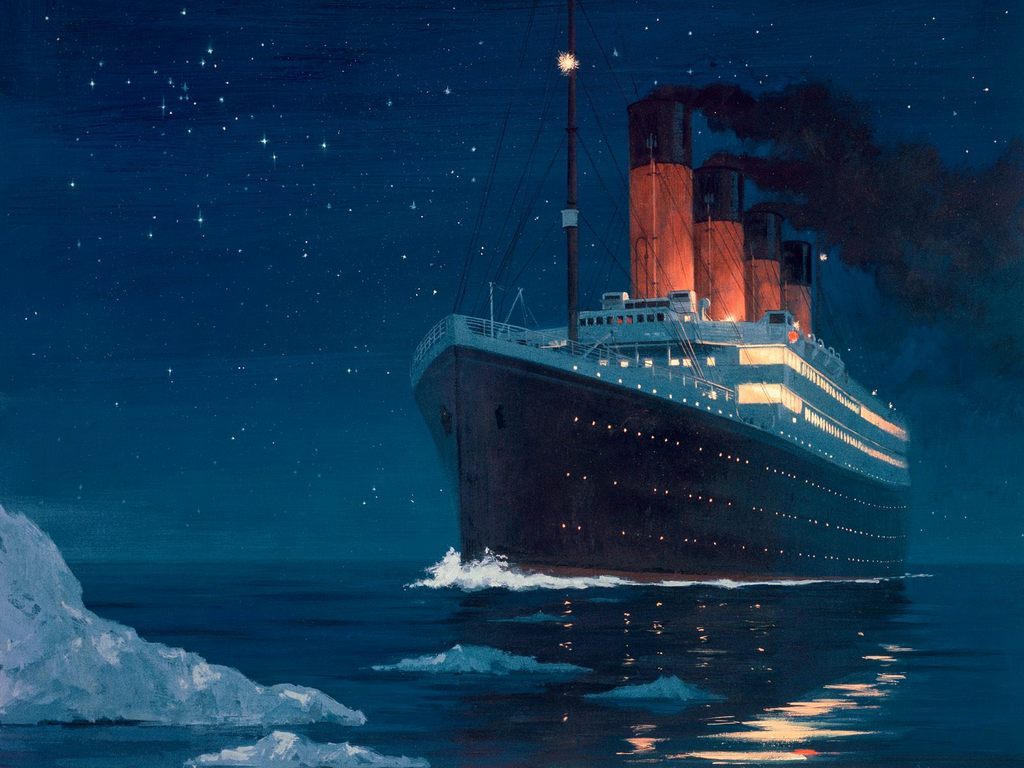 Teri brings it forward by saying that the only reason Paramount has given the money to create Star Trek II is because JJ is involved and can make them big money. It's the same situation with Michael Bay, they have a proven track record. Teri believes that JJ has the same budget if not more for the second film as the first, since it's being filmed in IMAX, but that does not include distribution or advertising. Teri believes that Star Trek II will cost somewhere around $250 million to make. Nick says that movies are being made for more than the GNP of some small countries. Nick mentions James Cameron as one of those directors that are able to draw big box office money. Cameron reinvented 3D movie making with Avatar. Teri says that there are few movies that could have used 3D to add to the depth of storytelling in the same way that Avatar had done. Nick mentions that he had not seen Titanic, but would like to see it on the big screen, but he's not sure about seeing it in 3D. Galactrix pointed out that this is the 100th anniversary of the Titanic, which would explain Cameron's desire to re-release the film in 3D. Teri says that he's one of the few creative types that are able to do whatever he wants. In the end, he over does it. Teri is not a huge fan of Titantic and doesn't believe it should have won best picture, but it was one of those films that deserves to be recognized for its accomplishments. She feels the say way about Avatar.
The Academy Awards are supposed to recognize the evolution in the art of filmmaking, which Cameron has done time and time again. He single-handedly changed the way films are made with both Titanic and Avatar. Nick brings up Martin Scorsese as being one of those filmmakers over looked by the Academy time and time again. Teri goes on to say that what Scorsese had done with Hugo was so much different than what he had done with any other of his films.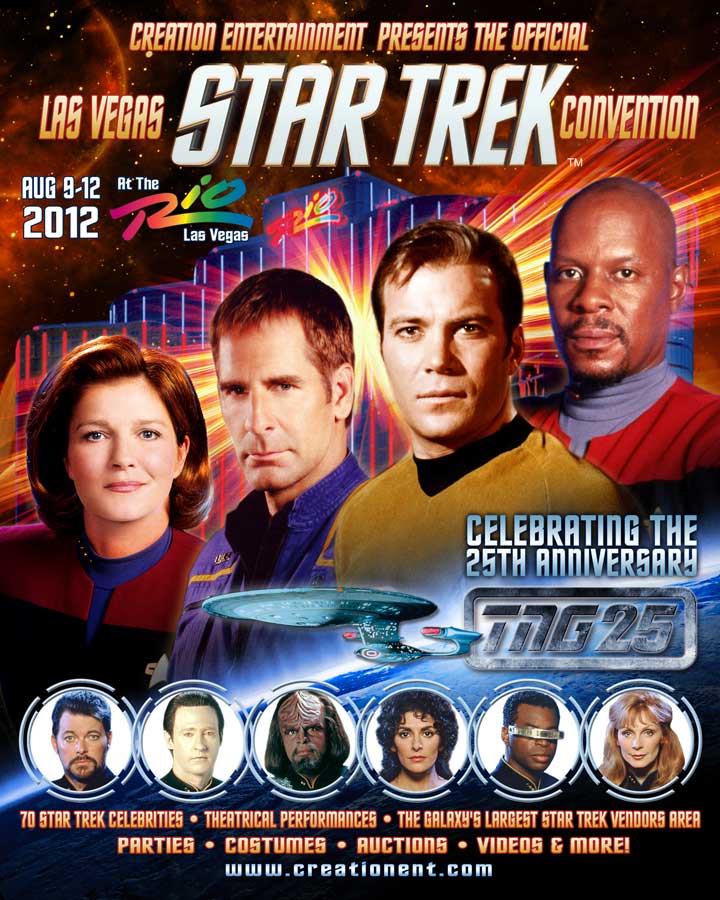 Nick changes the subject to the Star Trek Las Vegas Update. Preferred Seating has now gone on sale. Nick and Teri weren't expecting them to become available until May. Nick mentions that Glenn Morshower (Ensign Burke/Orton in TNG, Sheriff MacReady in ENT) has been added and will be in the vendor's room on Friday, Saturday, and Sunday. Teri shares that there are still a few Captain's Chairs still available. The autograph and photo op tickets went on sale this week. Teri shares some of the information that people will need to know before purchasing an autograph and photo op ticket, including: (1) autograph signing only occurs at certain times, and (2) you must bring your own thing for them to sign, they are not provided.
Nick shares a story about Nicole de Boer had to sign a G & T Show Business Card since that was all he had on him. Teri is looking forward to getting Ben Vereen (Edward La Forge from TNG's Interface) and Steven Culp's (Major Hayes from ENT) autographs. Nick asks Teri is she has Avery Brooks' signature? She wasn't sure, but at $50, she's considering it. However, she has noticed the number of people who are signing autographs for themselves in the vendor's room instead of through Creation, including: Armin Shimmerman, Aron Eisenberg, Brent Spiner, Celeste Yarnall, Chase Masterson, David Gerrold, David Livingston and Ronald D. Moore will be giving out complimentary autographs after their respective appearances for a limited time, Gates McFadden, Glenn Morshower, John deLancie, Jonathan Frakes, Kitty Swink, LeVar Burton, Lisa Wilcox, Marina Sirtis, Marnie Mosiman, Max Grodenchik, Michael Dorn, Natalija Nogulich, Richard Herd, and Robert Picardo. The vendor's room is going to be amazing! Later, Teri adds that Anthony Montgomery will also be in the vendor's room, but he won't be signing autographs. He will be pitching the release of his new graphic novel: Miles Away.
Even better still, Trek Radio has secured a large booth towards the front of the vendor's room that they will be sharing with the G & T Show, Priority One, Airlock Alpha, and possibly STOked. We love you Risa! So, keep an eye out for Trek Radio and Podcaster's Row. The G & T Show will be airing on that Sunday, but we haven't decided whether it will be at our regular time or a little later in the day. We will be working to get interviews or comments from some of the guests for our show. Mike (Soriedem) will be representing Gates of Sto'vo'kor in addition to being the G & T Show's Booth Babe. Nick hints at a big interview that he will be working to obtain while he's there.
Teri changes the subject to talk about Star Trek Online's Lead Designer, Captain Geko, who tweeted last night that Wil Wheaton (@wilw on Twitter) downloaded Star Trek Online. Teri explains that Wil Wheaton on Tumblr had reblogged that someone else was getting into Star Trek Online. Teri asks Nick if he knows about Sparks McGee. He had not. Teri tells us that Wil Wheaton had blogged that if there was a TNG reboot that Wesley Crusher would be renamed Sparks McGee – a cowboy hat wearing, 1970s-era Trans Am driving, shoot first and all around bad ass. Someone within Star Trek Online has made a character named Sparks McGee.
Speaking of memes, Nick asks Teri if she had her Cox out there yet? Teri has not started pumping the Cox. Nick explains that last week, we discussed Ronny Cox and our desire to have him attend Star Trek Las Vegas. Nick rages for a moment against Cryptic before he realized that that he meant Creation Entertainment. Nick and Teri want #CoxForSTLV. Nick shares that he's been tweeting it every day this week, and posting it on their Facebook page. He shares a recent post he made that provided them with a little history lesson. Nick cites an interview with Ronny Cox on Star Trek.com where he states that fans still identify him with the role of Jellico. Creation, please give us Jellico! Teri says that she would pay some serious money to get Ronny Cox and Natalija Nogulich together in a photo.
Teri is reminded that Creation is doing all of the celebrity photo ops. She mentions some of the group photos that are available, including: Janeway and Chakotay (Kate Mulgrew and Robert Beltram); The Klingons, Gowron and Martok (Robert O'Reilly and H G Hertzler); The Ferengi Quark, Rom, and Nog, but we have to ask where's Brunt, FCA? (Armin Shimmerman, Max Grodenchik, and Aron Eisenberg); Dancing Partners (Brent Spiner and Gates McFadden); Next Gen Cut-ups (Brent Spiner and Jonathan Frakes); Imzadi (Jonathan Frakes and Marina Sirtis); Tom Paris and B'Elanna Torres (Robert Duncan McNeil and Roxanne Dawson); the Enterprise Duo (Dominic Keating and Connor Trinneer) and George Takei and Walter Koenig. Speaking of conventions, Nick ordered his tickets for Shoreleave. Teri recommends going to Creation's website and pre-purchase your photo op and autograph tickets (don't forget to bring some to have signed) early.
Nick talks about a rant email they received concerning JJ keeping his people from attending the convention. Nick's response was simply that they're filming the movie, and by the time the convention comes around, they may be finished with primary photography, but they are still required to be available for post-production reshoots, voice over, and the like. There's a good reason why they may not be at STLV. Nick recalls last year's convention when Takei and Cho were together. Teri says that most likely, it's the actors themselves that may be avoiding the convention because of the stigma that comes with from those that do not understand Fandom. She says that the actors worry their public perception and also about being type cast. They mention Nichelle Nichols, DeForest Kelley, and Leonard Nimoy as examples of very talented actors becoming too well known for their Star Trek roles. Leonard Nimoy is a wonderful actor, photographer, and director; however, he is mostly known as Spock. Those that are able to get behind the camera, such as Robbie McNeil, Roxanne Dawson, and Jonathan Frakes have had successful careers. Jonathan Frakes has Leverage. Teri sympathizes with the new Star Trek actors, but there are people that have experienced it and are willing to help them acclimate. She mentions Zachary Quinto and John Cho who had met with Takei and Nimoy respectively. Nick brings up Chris Pine being an exception. Teri mentions the new movie This Means War with Chris Pine and Tom Hardy (Shinzon). If Chris Pine had not distanced himself from Star Trek, he may not have been able to get that role. Simon Pegg also had a long career before picking up the lackluster role of Scotty that he may not have to worry about being type cast. Nick admits that he hadn't heard of Karl Urban before Star Trek 2009. Teri loves Karl Urban. The McCoy character wasn't altered from the TOS McCoy. Nick feels that Spock wasn't that altered with the exception of the Uhura romance.
In Xander's honor, Nick brings us into Teri's Voyager Watch. Nick scolded her for not taking a dvd player with her to San Francisco. She shares that Cryptic gave her more of the same as well. Nick mentions Havraha to keep him listening to the show – hi Hav. Teri says that she had been asked not to listen to last week's episode of Podcast UGC.
They momentarily confuse Dave Mack's new book with Dayton Ward's Star Trek That Which Divides, which prompts Teri to say that she still hasn't read it, yet but has multiple copies sitting in front of her. She's helping to send Dayton's children to college. They move on to the final book in the Star Trek Vanguard series, Storming Heaven which is due out in October. Teri believes the novella that will be coming out will not be that different than the collection of short stories that came out earlier. Nick recommends that all 47s go to Dave Mack's website, Infinity Dog,  and check out the Vanguard finale for all of the wonderful extras that Dave and the other authors had produced, including:  the series bible, schematics of the Vanguard Station, technical documents on the Sagittarius, author annotations, Vanguard Cover Art Wallpaper, and interviews including a couple of past episodes of the G & T Show, links, and more. Nick may have to change his wallpaper. We would like to thank Dave for giving all of us, your fans, all of this wonderful information.  Teri looks forward to looking at the Bible to get a look at how the author intended the characters to look and sound like versus what she as a reader had imagined. Nick shares a few of the Chapter headings in the Bible. They will be talking about it more next week after the book has come out.
Nick shares with us that he will be getting a pre-surgical procedure done on Tuesday and will be looking at the Bible while he's recovering. He makes a Twilight reference and talks about Alice. They check on the chat room, but find that everyone is on Infinity Dog. Teri says that she has missed out on a lot this week since she's been away and is hoping to get caught up. She talks about her nephew, Hayes, and the video that she had posted on Facebook. Nick asked about whether she had spoken with Kestrel, the lead writer for Star Trek Online, about an interview for the G & T Show. She had touched upon it, but they still needed to work out a schedule when the three of them can meet. She reassures the audience that Kestrel has a deep understanding of the Star Trek mythos and describes her as a walking Memory Alpha. Kestrel wrote the Path to 2409, which accounts for 30 years of post DS9 / Voyager history leading up to where Star Trek Online begins. Teri says that they are working on a few more interviews, including Michael A. Martin.
Teri tells us that we're going to have Larry Nemecek with Terace on the show to talk about Geek Nation Tours leading up to STLV. Larry is also looking for support to help him get the Con of Wrath Documentary completed. From the chat room, Mike prompts Nick to mention Klingon Awareness Week in Star Trek Online. They invite him to come on the show, but he experienced some issues that didn't allow him to speak. Then, CaptPFDennis, mentioned Primetime UGC and their upcoming interview with Star Trek Online's Community Manager, Brandon (Branflakes) Felczer. In honor of CaptPFDennis, we'll include part of his Star Trek Online Foundry spoof of Law and Order, called Law and Horta at the end of this week's episode. Nick mentions Gates of Sto'vo'kor for Mike, Tribbles in Ecstasy for Xander, Podcast UGC for the Podcast Princess, and Nick's show Impressions of Sound. DefCon in the chat room mentions Unreality SF. Nick points out that DefCon had posted to the forums an update to the books release schedule.
Nick and Teri decide to finally remove Tales From the Dominion War from Sisko's Bookshelf. They choose to feature Star Trek Vanguard Storming Heaven. Teri tells us that if we're interested in getting all of the Vanguard novels, it will be easier to obtain in eBook format, since Reap the Whirlwind has not been put out in reprint. Nick reminds everyone to participate in our Tribble Squirrel contest. Artists submit your renditions of a Tribble Squirrel on our forums. For the writers out there, post your Star Trek children's stories featuring the Tribble Squirrel on our forums as well. The winners will be selected and an EBook will be produced. Nick invites the professional writer friends to use a pseudonym to send us your stories. Help Nick spam Creation Entertainment's Facebook and Twitter with #CoxForSTLV or #TeriNeedsCox. Teri invites our listeners to attend STLV, since we will be in the Vendor's room. We would love to meet our listeners.
Before ending this week's show, they have a discussion of strange words, like booth, lube, and moist. In closing, they remind everyone that next week they will be discussing Storming Heaven. They need to get Dave Mack on the show soon with a better internet connection. She had a visual that prompted Teri to write some Slash. After the show, we're including the introduction to CaptPFDennis' Star Trek Online Foundry spoof of Law and Order, called Law and Horta. Check out part one and two here.
Mike Medeiros is a great storyteller in his own mind. He's been known to put words to page and sometimes, he even turns them into audio stories for himself, his friends and the occasional stranger that stumbles upon his stuff by accident. He has written, writes, and will write for Gates of Sto'vo'kor, Blood of the Neirrh, Star Trek: Starfinder, The Klingons of Long Island, Reality's Edge, and Zygerus. Some of his stories and other writings have materialized on websites and forums for the G & T Show, Priority One, ScienceFiction.com, Star Trek Online, and even Star Trek.com. He's written a few playable missions for Star Trek Online and has even had a couple of them spotlighted. He keeps saying he's working on a novel, but is he really? A comic book is more likely. If only he could make money flinging ink at the screen, he'd be a happy camper.
But, wait. There's more.
He is the co-owner of Busy Little Beaver Productions and is the producer and co-host for G & T Show and Gates of Sto'vo'kor. He's directed voice actors, and produced and edited audio podcasts and dramas because he doesn't have the face for video. He plays well with others and is always on the look out for the next project, the next thing, the next next. If he wasn't working on something with a half dozen other projects waiting in the wings, somebody please check to make sure he's still breathing.
During the day, he's a mild-mannered computer repair man who dabbles in web design in his small, rural, Central California community. He lives with his lovingly dysfunctional family and loyal canine companion and spends most of his time in the closet concocting some hair-brained scheme or another. He's got an unhealthy obsession with Lego video games, Klingons, and Star Trek Online that borders on the neurotic.
Despite all this, he still finds the time to write the words. Find out what he's doing
here
.
Latest posts by Michael Medeiros (see all)