G & T Show Book Reports for August/September 2013
by Jens Deffner
Once again I have failed in delivering a Book Report last month, but at least that means that this one will have a double dose of info.
New book in August:
The Original Series: From History's Shadow
written by Dayton Ward
Mass Market Paperback, 400 pages
Release date: July 30th 2013
Back cover blurb:
2268: Following the encounter with the mysterious Gary Seven in the twentieth century, the crew of the U.S.S. Enterprise is startled by two intruders who have transported through space and time from Earth circa 1968. Incredibly, one of the infiltrators is a Vulcan, who asserts that he's lived among Earth's population for over a decade. The other represents a little-known race, and reveals to Captain James T. Kirk that she has spent the last twenty years working to bring about humanity's destruction. It is then that Gary Seven's young protégée, Roberta Lincoln, arrives seeking Kirk's help. . . .
1947: In the wake of the infamous "Roswell Incident" involving a crashed alien craft and beings from another world, Captain James Wainwright finds himself recruited as one of the first members of Majestic 12, a secret organization with two goals: Collect evidence of extraterrestrial activity on Earth, and develop strategies to combat alien invaders. And it is this very mission that will consume Wainwright's life for the next two decades, driven by the knowledge that the danger is as real as the aliens living among us. . . .
Additional information:
New book in September:
The Fall: Revelation and Dust
writtenby David R. George III
MassMarketPaperback, 400 pages
Releasedate: August 27th 2013
Back cover blurb:
After the destruction of the original space station by a rogue faction of the Typhon Pact, Miles O'Brien and Nog have led the Starfleet Corps of Engineers in designing and constructing a larger, more advanced starbase in the Bajoran system. Now, as familiar faces such as Benjamin Sisko, Kasidy Yates, Ezri Dax, Odo, and Quark arrive at the new station, Captain Ro Laren will host various heads of state at an impressive dedication ceremony. The dignitaries include not only the leaders of allies—such as Klingon Chancellor Martok, Ferengi Grand Nagus Rom, the Cardassian castellan, and the Bajoran first minister—but also those of rival powers, such as the Romulan praetor and the Gorn imperator. But as Ro's crew prepares to open DS9 to the entire Bajor Sector and beyond, disaster looms. A faction has already set in action a shocking plan that, if successful, will shake the Alpha and Beta Quadrants to the core.
And what of Kira Nerys, lost aboard a runabout when the Bajoran wormhole collapsed? In the two years that have passed during construction of the new Deep Space 9, there have been no indica­tions that the Celestial Temple, the Prophets, or Kira have sur­vived. But since Ben Sisko once learned that the wormhole aliens exist nonlinearly in time, what does that mean with respect to their fate, or that of the wormhole . . . or of Kira herself?
Additional information:
Book News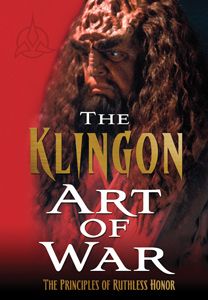 While there is still no news on him returning to Star Trek prose, Keith R.A. DeCandido will return to writing Star Trek with the hardcover non-Fiction book Klingon Art of War, developed by Becker and Meyer and released by Gallery Books.
Blurb:
Klingons fight, but they do not merely fight. For Klingons, battle is a dance, a way of living with dignity and purpose. This is central to the concept at the heart of Klingondom: honor.
The Klingon Art of War lays out the principles of the Klingon code that animates their entire culture. Each chapter introduces another part of the Klingon ethic and explores the ways it informs Klingon life, behavior, and history. Each chapter also celebrates famous Klingons, warships, and battles, and the role they've played in advancing the Klingon Empire. 
The Seekers are coming
Coming from the brain trust behind Vanguard, David Mack, Dayton Ward and Kevin Dilmore, the forthcoming new series The Seekers will follow the adventures of former Vanguard based Starships Endeavour and Sagittarius during their adventures in the Taurus Reach after the destruction of Vanguard. Both Dayton Ward and David Mack have posted detailed announcements on their blogs, among other things talking about the inspiration for the series: a series of fan-created covers for a fake TOS spin-off called Seekers. 8of5 has posted a very useful  post on the Trek Collective, functioning as a HUB not only for the various announcement posts by the authors, but also for info about the inspirational covers by Rob Caswell, including an interview he had conducted with him a few years ago. 
Exclusive eBooks announced
It seems like Pocket is aiming for a more regular release schedule for eBook exclusive novellas starting next year. Beside Michael A. Martin's TOS novella which we have know about for quite a while now, several authors have announced that they would be writing Star Trek eBooks in the near future. Those eBooks are:
December 2013: TOS: Shadow of the Machine by Scott Harrison
April '14: TOS: Seasons of Light and Darkness by Michael A. Martin
tba: Titan: Absent Enemies by John Jackson Miller
tba: tba by Paula M. Block and Terry J. Erdmann 
Stellar Cartography interview
In July TrekFM's Literary Treks did a lengthy podcast interview with Larry Nemecek about his upcoming Stellar Cartography project. You can find a write-up of the highlights on thetrekcollective.com.
More Voyager by Kirsten Beyer to come
We already knew of the next Voyager-Relaunch novel Protectors, due out in February, but in a recent two-part interview with trekcore.com Kirsten Beyer revealed that at least two more are planned – no contracts are signed for those yet, though. In the interview she also talked about her writing the Relaunch in General.
David R. George III revisiting the Lost Era
In an interview with TrekCore David R. George III revealed some tidbits about his next novel. It will be a novel set in the Lost Era and will encompass the years 2303-2319. Given those date it is likely that he will revisit the Enterprise-B under Captains John Harriman and Demora Sulu. He also talks about his recent book Revelation and Dust and the rest of his career.
Book covers and blurbs revealed
Over the last two months a couple of covers and blurbs have been revealed:
 The Fall: The Crimson Shadow by Una McCormack
Blurb:
Cardassia Prime is home to a prideful people who, for centuries, forged alliances with those they believed would strengthen them and their place in the Alpha Quadrant, and expanded their empire at great cost to other worlds. For generations, dissenting voices were silenced either by fear or an early grave. When their wartime ally, the Dominion, suddenly turned on them, seeking to transform Cardassia into a tomb for every last member of their race, their old adversary—the United Federation of Planets—put an end to the carnage, and even now works to help rebuild Cardassia Prime.
To celebrate this alliance, the Castellan of the Cardassian Union is to welcome the Federation president to Cardassia Prime. As a symbol of this deepening friendship, the U.S.S. Enterprise-E is tasked to carry the Cardassian ambassador to the Federation back home. For his part, Ambassador Elim Garak is working with Captain Jean-Luc Picard to oversee the diplomatic reception that will commemorate the last of Starfleet's personnel finally leaving the homeworld. However, there are malevolent forces at work, who even now strive to "restore Cardassia to its proper place and glory," and are willing to do anything to achieve their goal…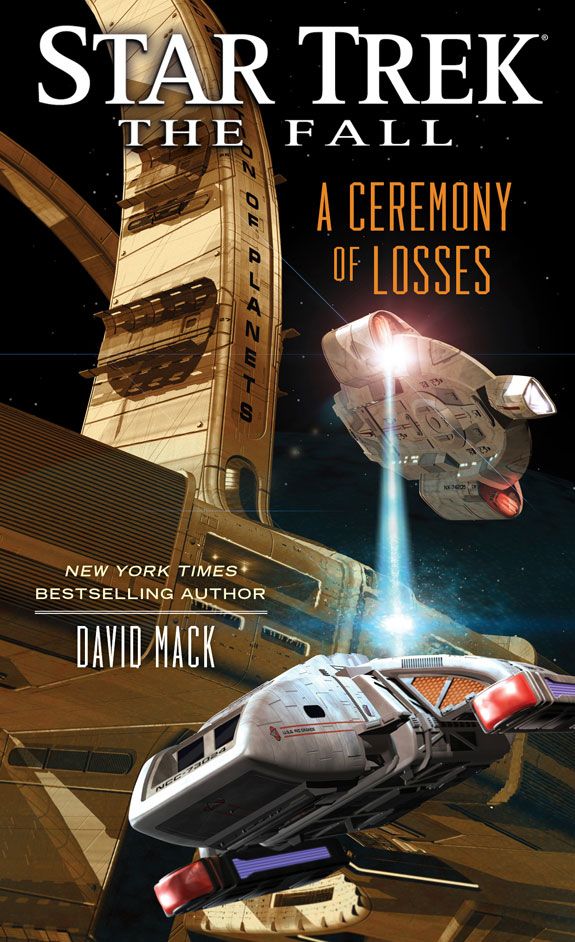 The Fall: A Ceremony of Losses by David Mack
Blurb:
Despite heroic efforts, the Andorian species is headed for extinction. Its slow march toward oblivion has reached a tipping point, one from which there will be no hope of return. With countless lives at stake, the leaders of Andor, the Federation, and the Typhon Pact all scheme to twist the crisis to their political gain—at any price. Unwilling to be a mere bystander to tragedy, Doctor Julian Bashir risks everything to find a cure for the Andorians. But his courage will come at a terrible cost…
Voyager: Protectors by Kirsten Beyer
Blurb:
Following the destruction of four fleet vessels at the hands of the Omega Continuum, the U.S.S. Voyager and U.S.S. Demeter set course for a region of the Delta Quadrant far beyond anything previously explored. Captain Chakotay is determined to prove to Starfleet Command that the fleet's ongoing mission is vital to Federation interests…and the key to doing so may lie in a distress call Voyager received nine years earlier, but could not investigate. Meanwhile, Vice Admiral Kathryn Janeway is recalled to the Alpha Quadrant for an evaluation period to determine her next assignment. Given the trauma she has recently endured, Admiral Akaar, Starfleet's Commander-in-Chief, questions Janeway's fitness to command the fleet. Janeway's primary concern remains the fleet's safety. For their mission to continue, she must find a way to secure the resources they require. But the uncertainty of her superior officers has left her powerless to act in their best interests…
TOS: No Time like the Past
Blurb:
Stardate 6422.5. A diplomatic mission to the planet Yusub erupts in violence when ruthless Orion raiders attempt to disrupt the crucial negotiations by force. Caught in the midst of tense and dangerous situation, Captain James T. Kirk of the U.S.S Enterprise finds an unexpected ally in the form of an enigmatic stranger who calls herself "Annika Seven."
Stardate 53786.1. Seven of Nine is taking part in an archaeological expedition on an obscure planetoid in the Delta Quadrant when a disastrous turn of events puts Voyager's away team in jeopardy—and transports Seven across time and space to Yusub, where she comes face to face with one of Starfleet's greatest legends.
Stardate 6422.5. Kirk knows better than most the danger that even a single castaway from the future can pose to the timeline, so he and Seven embark on a hazardous quest to return her to her own era. But there are others who crave the knowledge Seven possesses, and they will stop at nothing to obtain it—even if this means seizing control of the Enterprise!
Enterprise: Tower of Babel by Christopher L. Bennett
Blurb:
Having survived its first major crisis, the Federation turns to nation-building as Admiral Jonathan Archer works to bring the worlds of the powerful Rigel system into the young union of the United Federation of Planets. But factions both within the Federation and among its enemies oppose the alliance, and Archer will need all the skills of his former Enterprise crewmates to prevent them from plunging Rigel into a systemwide war.
TOS: Serpents in the Garden by Jeff Mariotte
Blurb:
Early in his five-year mission commanding the U.S.S. Enterprise, Captain James T. Kirk found himself caught up in a growing conflict on the planet Neural. To maintain the balance of power against a force being armed by the Klingons, he provided weapons to his friends, the Hill People. Years later, Admiral Kirk learns that the Klingon presence on the planet has grown considerably, in possible violation of the Treaty of Organia. Did his impulse as a young captain turn out disastrously wrong? Should he—could he—have done more to eliminate the Klingon threat? To find out, he embarks on a secret mission back to Neural—where he might just be the only person who can prevent an interstellar war.
Non-Fiction: A Very Klingon Khristmas by Paul Ruditis
Blurb:
A hilarious, illustrated holiday gift book that celebrates the rich Klingon Christmas traditions—perfect for Star Trek fans everywhere.
A Very Klingon Khristmas recounts, in rhyming verse, the treasured children's story of the birth of revered warrior Kahless and celebrates the rich Klingon Christmas traditions originating on Qo'noS and spreading across the Star Trek universe.
This hilarious parody from acclaimed book packager becker&mayer! firmly plants Klingons at the center of the Christmas story—where they rightly should be—and includes everything from a Santa equipped with retractable claws, Tribbles in the stockings of naughty Klingon boys and girls, and the warmth of a hot cup of mulled blood wine. Illustrated in a nostalgiac Norman Rockwell–inspired style, A Very Klingon Khristmas is the perfect holiday gift for every Star Trek fan.
Several German covers
Cross Cult, the German publisher of Star Trek novels has also posted some covers of the last few months. Please note that some of those are only drafts and not final.
Titan: Fallen Gods
http://i54.photobucket.com/albums/g96/defcons_treklit/CrossCultStarTrekTitanFallenGodsMartinFrei_zpseff03c96.jpg
TOS: Twilight's End (a novel from the 90's):
http://s54.photobucket.com/user/defcons_treklit/media/CrossCultStarTrekDasEndederDC3A4mmerung_zps6a3eee0c.jpg.html
Typhon Pact: The Struggle within
http://i54.photobucket.com/albums/g96/defcons_treklit/CrossCultStarTrekTyphonPactKampf_zps7e4a975b.jpg
Voyager: Homecoming
http://i54.photobucket.com/albums/g96/defcons_treklit/CrossCultStarTrekVoygerHeimkehr_zps67012545.jpg
Voyager: The farther Shore
http://s54.photobucket.com/user/defcons_treklit/media/CrossCultStarTrekVoygerFerneUfer_zps0e4915a4.jpg.html
A look ahead
Coming out over the course of the next three months:
October 2013:
Star Trek: The Fall – Book 2: The Crimson Shadow * Una McCormack
November 2013:
Star Trek: The Fall – Book Three: A Ceremony of Losses * David Mack
December 2013:
Star Trek: The Fall – Book Four: The Poisoned Chalice * James Swallow
You can find a more extensive list of things to come on the G&T forums.
Final Words a.k.a Shameless plugging
This time I don't want to plug my own stuff, but want to spotlight an invaluable source instead:
James (8of5) collects all the news about Trek prose, comics and other merchandise and by that is an incredible go-to-guy for me when writing those Book Reports, not only to remind myself of the news since the last report, but also because he always cites his sources (something sadly not all news sites do). If you don't want to wait for me to write these reports once a month (*cough* usually *cough*), or don't want to have to scout half the web for information the Trek Collective should be on your bookmarks, follow, like or whatever list.
Keep on reading!
Related articles across the web
Mike Medeiros is a great storyteller in his own mind. He's been known to put words to page and sometimes, he even turns them into audio stories for himself, his friends and the occasional stranger that stumbles upon his stuff by accident. He has written, writes, and will write for Gates of Sto'vo'kor, Blood of the Neirrh, Star Trek: Starfinder, The Klingons of Long Island, Reality's Edge, and Zygerus. Some of his stories and other writings have materialized on websites and forums for the G & T Show, Priority One, ScienceFiction.com, Star Trek Online, and even Star Trek.com. He's written a few playable missions for Star Trek Online and has even had a couple of them spotlighted. He keeps saying he's working on a novel, but is he really? A comic book is more likely. If only he could make money flinging ink at the screen, he'd be a happy camper.
But, wait. There's more.
He is the co-owner of Busy Little Beaver Productions and is the producer and co-host for G & T Show and Gates of Sto'vo'kor. He's directed voice actors, and produced and edited audio podcasts and dramas because he doesn't have the face for video. He plays well with others and is always on the look out for the next project, the next thing, the next next. If he wasn't working on something with a half dozen other projects waiting in the wings, somebody please check to make sure he's still breathing.
During the day, he's a mild-mannered computer repair man who dabbles in web design in his small, rural, Central California community. He lives with his lovingly dysfunctional family and loyal canine companion and spends most of his time in the closet concocting some hair-brained scheme or another. He's got an unhealthy obsession with Lego video games, Klingons, and Star Trek Online that borders on the neurotic.
Despite all this, he still finds the time to write the words. Find out what he's doing
here
.
Latest posts by Michael Medeiros (see all)