G & T Show Book Reports July 2013
By Jens Deffner
New book in July:
Enterprise: The Rise of the Federation – The Choice of Futures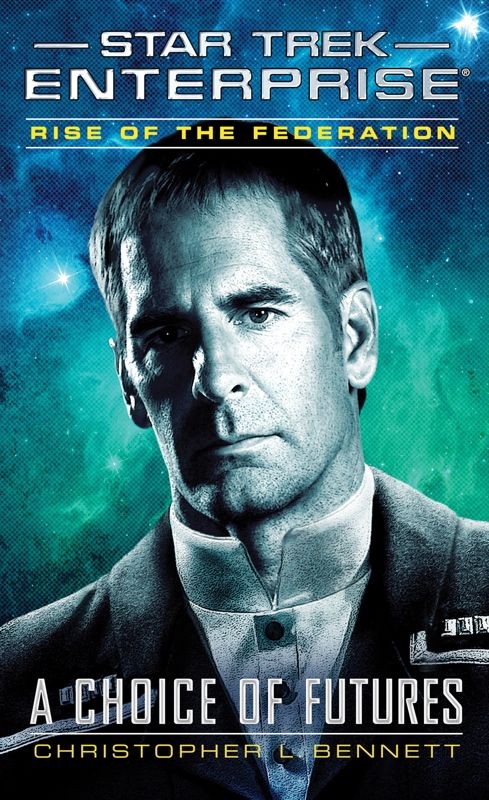 written by Christopher L. Bennett
Mass Market Paperback, 352 pages
Release date: June 25th 2013
Get It On Amazon
Back cover blurb:
A new nation has arisen from the ashes of the Romulan War: the United Federation of Planets, an unprecedented union of diverse species cooperating for the good of all. Admiral Jonathan Archer—the former captain of the Earth starship Enterprise, whose efforts made this union possible—envisions a vibrant Federation promoting galactic peace and a multispecies Starfleet dedicated to exploring strange new worlds. Archer's former crewmates, including Captain T'Pol of the U.S.S. Endeavour and Captain Malcolm Reed of the U.S.S. Pioneer, work with him to secure that bright future. Yet others within the Federation see its purpose as chiefly military, a united defense against a dangerous galaxy, while some of its neighbors view that military might with suspicion and fear. And getting the member nations, their space fleets, and even their technologies to work together as a unified whole is an ongoing challenge.
When a new threat emerges from a force so alien and hostile that negotiation seems impossible, a group of unaligned worlds asks Starfleet to come to its defense, and the Federation's leaders seize the opportunity to build their reputation as an interstellar power. But Archer fears the conflict is building toward an unnecessary war, potentially taking the young nation down a path it was never meant to follow. Archer and his allies strive to find a better solution . . . but old foes are working secretly to sabotage their efforts and ensure that the great experiment called the Federation comes to a quick and bloody end.
Additional information:
An excerpt of the book can be found at Amazon via the link above.
Christopher L. Bennett talks about this book on his homepage.
He also provided a sketch of how he imagined the new uniforms here.
You can discuss the book on the G&T forums in this thread.
Book News
Early 2014 Schedule
As 8of5 reported on thetrekcollective.com a week or so ago Amazon has added a couple of new Star Trek books for 2014 to their catalog (in the interim they are also listed on the S&S page):
February: Voyager: Protectors by Kirsten Beyer
Kirsten Beyer's continuation of the Voyager relaunch.
March: TOS: No Time like the Past by Greg Cox
On the TrekBBS Greg Cox has revelealed that this will be a 5YM story, that time travel will be involved and hinted at a connection to a 24th Century series.
April: Enterprise – Rise of the Federation: Tower of Babel by Christopher L. Bennett
Christopher L. Bennett's follow up to this month's The Choice of Futures.
May: TOS: Serpents in the Garden by Jeff Mariotte
Jeff Marriotte talked a bit about this on his facebook page:
"For dedicated ST fans, the title should provide an adequate clue to which episode of the original series forms the basis for the novel. The book is about Rear Admiral Kirk trying to set straight some unintended consequences arising from one of his most difficult decisions during his original five-year mission."
In the comments to the post he ruled out The Way to Eden and This Side of Paradise as the basis and hints that "[t]he title actually relates to a specific Kirk quote from the episode in question."
May: TOS: Seasons of Light and Darkness by Michael A. Martin (eBook novella)
Also finally listed on Amazon is Michel A. Martin's eBook exclusive TOS novella Seasons of Light and Darkness, with a release date of April 28th 2014, which is almost a year later than the June/July 2013 date Martin originally mentioned.
New non-Fiction book by Larry Nemecek
Star Trek Stellar Cartography: The Starfleet Reference Library by Larry Nemecek has been announced. This non-Fiction book will include ten star maps from different areas and powers of the Star Trek universe. You can find out more here on Larry Nemecek's blog.
A look ahead
Coming out over the course of the next three months:
August 2013:
TOS: From History's Shadow * Dayton Ward
September 2013:
Star Trek: The Fall – Book 1: Revelation and Dust * David R. George III
October 2013:
Star Trek: The Fall – Book 2: The Crimson Shadow * Una McCormack
You can find a more extensive list of things to come on the G&T forums.
Final Words a.k.a Shameless plugging
Didn't really had much time to write anything the last few weeks (months really *sigh*), so no real plug this month, just a general mention of Unreality SF. If you're a fan of Big Finish's audio plays, you can find a shit-load of reviews written by Star Trek novelist Steve Mollmann for their stuff and hopefully in the near feature some new reviews by me (I should have a few weeks off starting mid-July).
And, since it really could need some more participants I want to plug the book section of the G&T forums. If you have read a Star Trek book, why not chime in on the forum and discuss it with other readers?
Keep on reading!
Related articles across the web
Mike Medeiros is a great storyteller in his own mind. He's been known to put words to page and sometimes, he even turns them into audio stories for himself, his friends and the occasional stranger that stumbles upon his stuff by accident. He has written, writes, and will write for Gates of Sto'vo'kor, Blood of the Neirrh, Star Trek: Starfinder, The Klingons of Long Island, Reality's Edge, and Zygerus. Some of his stories and other writings have materialized on websites and forums for the G & T Show, Priority One, ScienceFiction.com, Star Trek Online, and even Star Trek.com. He's written a few playable missions for Star Trek Online and has even had a couple of them spotlighted. He keeps saying he's working on a novel, but is he really? A comic book is more likely. If only he could make money flinging ink at the screen, he'd be a happy camper.
But, wait. There's more.
He is the co-owner of Busy Little Beaver Productions and is the producer and co-host for G & T Show and Gates of Sto'vo'kor. He's directed voice actors, and produced and edited audio podcasts and dramas because he doesn't have the face for video. He plays well with others and is always on the look out for the next project, the next thing, the next next. If he wasn't working on something with a half dozen other projects waiting in the wings, somebody please check to make sure he's still breathing.
During the day, he's a mild-mannered computer repair man who dabbles in web design in his small, rural, Central California community. He lives with his lovingly dysfunctional family and loyal canine companion and spends most of his time in the closet concocting some hair-brained scheme or another. He's got an unhealthy obsession with Lego video games, Klingons, and Star Trek Online that borders on the neurotic.
Despite all this, he still finds the time to write the words. Find out what he's doing
here
.
Latest posts by Michael Medeiros (see all)