G & T Show Book Reports: March 2013 – Novel Edition
New books this month:
The Original Series: Devil's Bargain
written by Tony Daniel
Mass MarketPaperback,320 pages
Release date: February 26th 2013
Star Trek: The Original Series: Devil's Bargain
Back cover blurb:
Captain James T. Kirk and the crew of the U.S.S. Enterprise are sent to evacuate the Omega sector frontier colony Vesbius—a pioneer settlement that is on the brink of an extinction-level event threatening not only all of the colonists, but biological products that are vital to Starfleet. However, rescue efforts are being thwarted by the colonists themselves, who refuse to abandon Vesbius, claiming that their lives depend upon staying, while giving no reason why. It is after these irrational decisions that First Officer Spock makes a radical suggestion: Perhaps an unexpected ally could aid the colony and help complete the mission.
Additional information: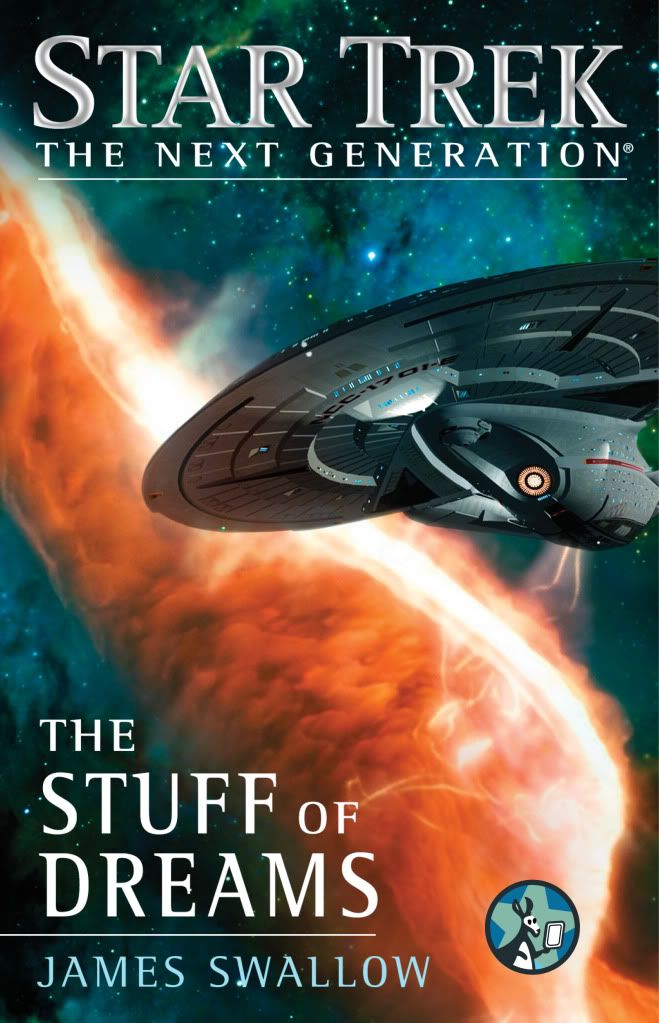 The Next Generation: The Stuff of Dreams
written by James Swallow
eBook eclusive novella, 100 pages
Release date: March 25th 2013
Star Trek: The Next Generation: The Stuff of Dreams
Back cover blurb:
When Captain Picard is summoned back to the mysterious space-time phenomenon known as the nexus, he and his crew become embroiled in a desperate plot to rewrite history, no matter what the cost.
Additional information:
Follows on from David Mack's recent Cold Equations ST:TNG trilogy and revisits plot threads from the Generations movie
This story is one of Simon & Schuster's infrequent releases of eBook exclusive novellas
There is no excerpt available at this moment
You can discuss the book on the G & T forums in this thread.
Book News
David R. George III:
Surrounding the release of his TOS novel Allegiance in Exile last month David R. George III was active talking to  Star Trek related websites.
In late January he talked to startrek.com, the only news bit coming out of it was that he was talking with Pocket Books about future books. Later in February he followed up on this on his Facebook by confirming that another Star Trek novel by him will be out in 2014.
In late February DRG III participated in Starbase 118's Writing Improvement Month 2013  in form of a video Q&A. Other events in this endeavor involved fellow Star Trek alumni Margaret Wander Bonanno and Melinda Snodgrass.
Finally he did a lengthy interview with trek.fm's podcast Literary Treks, talking about his DS9 novels, for example explaining his motivations and reasons for portraying Sisko the way he did in his  Typhon Pact novels. He also urges the readers to support any DS9 related novels, as they are always on the brink of being cut according to him.
In more self serving David R. George III news:  My review of David R. George III's recent TOS novel Allegiance in Exile went live on Unreality SF in February.
Christopher L. Bennett talks Rise of the Federation:
In an interview with trekmovie.com Christopher L. Bennett talked about his upcoming Enterprise era novel Rise of the Federation: A Choice of Futures  and revealed that the "focus is largely on two main starship crews, which include a mix of familiar and new characters and move some of the familiar cast into new roles and responsibilities." Additionally he tells the interviewer that "
there are also characters representing various branches of the Federation government, which at this stage wasn't structured quite the same way as its 24th-century incarnation as portrayed in the book Articles of the Federation. If you've ever wondered what a Federation commissioner was (a title used a couple of times in the original series), you'll find out here. "
You can read much more about the development of the novel and about Christopher L. Bennett'S original novel Only Superhuman here.
Peter David returns home, in more ways than one …:
One week earlier than originally planned Peter David returned home from the post-stroke rehab facility in early February.
But if that wouldn't be enough, less than two months after his stroke he also returned to the convention circus at the Farpoint convention in Baltimore, even participating in Crazy8Press' panel about future plans, the publishing operation he and several of his colleagues started a year ago.
While there will always be bumps along the road it is truly remarkable to see Peter David's progress in the last 10 weeks, and I think that we can all agree that he is one tough guy.
Peaceable Kingdoms:
After already talking about his From History's Shadow in one installment of the Your next Big Thing internet meme in late 2012, Dayton was tagged again, and this time he answered some questions about his The Fall novel Peaceable Kingdoms. Among the tidbits he offered is his "one sentence synopsis" (only for the numerically challenged) of the novel : "Picard and his crew are dispatched to uncover the truth behind a "prominent figure within the Federation" who's emerged onto the interstellar stage. It's discovered that said individual may well be perpetrating a hoax as to their true identity, and has been doing so for years. This kind of sucks, since this person is now in a position to wield enormous power within the Federation."
His answer to the who would play your characters question also indicates that there will be a Titan connection, as were his comments on the TNG show that he had long talks with James Swallow about there respective entries into the miniseries.
Beyond the Spine:
Beyond the Spine will be an irregular part of my updates looking at news about former ST authors and TrekLit related news tidbits that don't exactly concern the mainstream US novel market  :
A look ahead
Coming out over the course of the next three months:
April 2013:
The Original Series: The Weight of Worlds * Greg Cox
May 2013:
The Original Series: The Folded World * Jeff Mariotte
June 2013:
The Original Series: The Shocks of Adversity * William Leisner
You can find a more extensive list of things to come on the G&T forums.
Final Words a.k.a Shameless plugging
Last, but hopefully not least February also saw the posting of four of my reviews on Unreality SF:
Beyond the one about Allegiance in Exile mentioned above, there are reviews for all three books in David Mack's Cold Equations trilogy – The Persistence of Memory, Silent Weapons and The Body Electric.
On March 9th Unreality SF will celebrate its 5th Birthday, so look forward to some neat features on and around that date on the site.
Keep on reading!
Related articles across the web
Mike Medeiros is a great storyteller in his own mind. He's been known to put words to page and sometimes, he even turns them into audio stories for himself, his friends and the occasional stranger that stumbles upon his stuff by accident. He has written, writes, and will write for Gates of Sto'vo'kor, Blood of the Neirrh, Star Trek: Starfinder, The Klingons of Long Island, Reality's Edge, and Zygerus. Some of his stories and other writings have materialized on websites and forums for the G & T Show, Priority One, ScienceFiction.com, Star Trek Online, and even Star Trek.com. He's written a few playable missions for Star Trek Online and has even had a couple of them spotlighted. He keeps saying he's working on a novel, but is he really? A comic book is more likely. If only he could make money flinging ink at the screen, he'd be a happy camper.
But, wait. There's more.
He is the co-owner of Busy Little Beaver Productions and is the producer and co-host for G & T Show and Gates of Sto'vo'kor. He's directed voice actors, and produced and edited audio podcasts and dramas because he doesn't have the face for video. He plays well with others and is always on the look out for the next project, the next thing, the next next. If he wasn't working on something with a half dozen other projects waiting in the wings, somebody please check to make sure he's still breathing.
During the day, he's a mild-mannered computer repair man who dabbles in web design in his small, rural, Central California community. He lives with his lovingly dysfunctional family and loyal canine companion and spends most of his time in the closet concocting some hair-brained scheme or another. He's got an unhealthy obsession with Lego video games, Klingons, and Star Trek Online that borders on the neurotic.
Despite all this, he still finds the time to write the words. Find out what he's doing
here
.
Latest posts by Michael Medeiros (see all)