Star Trek Product News Roundup January 2017
During January 2017, we covered a ton of Star Trek and geek-related products. However, we might have elided over them a little too quickly, or maybe you didn't get a chance to see the pictures?
Yet you need not worry. Because we have got you covered.
So the range of products is truly dizzying. And these are just a handful!
January 2017 DVDs and Blu-Rays
So, are you looking for a complete set of Voyager, Deep Space Nine, or Enterprise? Well look no further, because Amazon and BestBuy have got you covered. For Voyager, beam to Amazon to preorder the set for $104.54. And if Enterprise is more your speed, Amazon has the DVDs for $50.21 while BestBuy has the Blu-Rays for $74.99 on preorder.  Furthermore, the Blu-Ray version of Enterprise goes on sale on February 14th. Also, for Deep Space Nine, Amazon has the set for preorder for $95.99.
January 2017 Books and Comics
First of all, we spent some time catching up with IDW's Boldly Go Comic Book Adventures. And the series captures a lot of in-between time which had been glossed over in the films. In addition, this includes the building of the new USS Enterprise which happens at the end of Star Trek Beyond. Hence instead of Kirk sitting idly by, he takes a commission as a captain on the USS Endeavor with a – get this – beautiful Romulan First Officer! Furthermore, Doctor McCoy comes along and you just know he'll have something acerbic to say about that.
In addition, we get Spock and Uhura on vacation and there just so happens to be an early appearance of Borg technology. And in issue #4, we get a PG-13 nekkid Spock! Therefore, resistance, it would seem, is futile in any timeline. Oh noes!
Furthermore, did you know that there is a graphic novel collection coming soon? So according to Star Trek.com, Eaglemoss gathers it all together, in a hardback book collection celebrating the 50 years of Star Trek in a single series. Also, this includes all the key moments in Star Trek comic book history. In addition, Eaglemoss offers the collection as a subscription. While I only have UK prices for the moment, they seem rather reasonable, at: £1.99 for the first issue, £6.99 for the second, and then £9.99 onwards. Finally, if you upgrade your subscription to include four hardcover books, the price only rises by £1 per issue (and the first issue remains only £1.99).
January 2017 Apparel and Jewelry
First of all, check out this Star Trek Abbey Road tee shirt from ThinkGeek. Retailing for $9.99, the shirt features Kirk, Spock, Scotty, and McCoy in the standard Beatles pose including a barefoot Montgomery Scott. Furthermore, it comes in sizes S – 2XL.
So, check out this super-cute Star Trek Patches Paige bomber jacket. Retails for $39.99 for sizes S – 5X from ThinkGeek. Machine wash; however, you need to hang the jacket to dry it.
Fellows! Need a somewhat better shirt for an evening out? Then how about this Star Trek Final Frontier Dress Shirt? Furthermore, it retails for $49.99 for sizes S – 3X from ThinkGeek. However, much like the bomber jacket, you machine wash it (in cold water) but must hang or lay it flat in order to dry the shirt.
In addition, we loved this Star Trek vintage style brooch set. For only $34.99, grab these pretty pins from the ThinkGeek Star Trek Collection by Her Universe. These four acrylic brooches are officially licensed and consist of: U.S.S. Enterprise NCC-1701, U.S.S. Enterprise NCC-1701-D, a TOS Science Insignia, and a shooting star retro design with all three original insignias.
January 2017 Housewares and Office Supplies
First of all, you might get hungry for sushi while using your tricorder. And you just gotta have the proper utensils! Hence ThinkGeek has got you covered with this fantastic sushi set. Retailing for $19.99, the warp nacelles double as chopsticks while the saucer section serves as the soy sauce dish. Therefore, you might just want to play with your food.
So we learned that Kirk and Spock statue paperweights are ready to beam up. Furthermore, only 150 sets will be made. In addition, they are available at Icon Heroes for $109.99. Currently ready for pre-order.
In addition, you might just need a lamp. So why not get a Star Trek glitter lamp? Retailing for $29.99 from ThinkGeek, note: you will need to do some assembly with this one. Furthermore, it apparently takes about an hour for it all to get going, and it will stay hot after it's turned off. Therefore, do be careful with this one.
January 2017 Action Figures, Collectibles, and Figurines
And now Loot Crate offers a Loot Pets Star Trek item! So of course we don't know what it is, but we can sure speculate. In addition, you can get $3 off Loot Crate with promo code TREKPETS, at Loot Crate. We're partial to this Trek pet: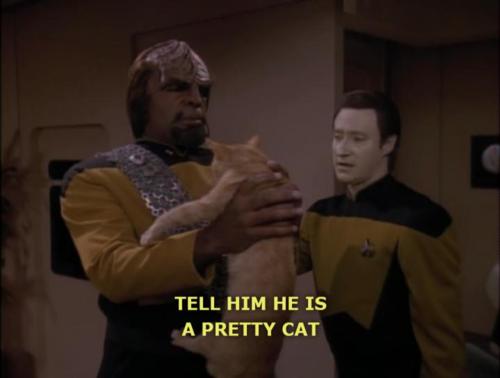 In addition, Action Figure Insider announces new Star Trek Titans. These consist of favorite and recurring characters from TNG. And the gang's all here, including both the regular Jean-Luc and Locutus versions of Picard. Also, I gotta say, I really like Gowron. Retailing for $199.99 from Entertainment Earth.
However, if you prefer TOS, Quantum Mechanix reveals a Dr. Leonard "Bones" McCoy collectible figure with terrific facial detail. Retails for $179.95 at Alter Ego Comics and will ship in March 2017.
January 2017 Toys
Awww, so if you want to surprise your nearest and dearest with a soft plushie, these have a Star Trek twist. And StarTrek.com is only too happy to help you say it with a plushie! Because I bet these would be great for Valentines' Day ….
First up we have the Uhura plush, retailing for $17.60.
And next we have the Scotty plush, also available for $17.60.
Finally, we've got the Dr. McCoy plush, which also retails for $17.60.
January 2017 Grab Bag
Furthermore, in January 2017, ThinkGeek now offers an Epic Star Trek Box. Billed as an 'instant collection for the Star Trek fan',  it includes collectibles in every box. And this one has a coin, one side with the Enterprise, one side with the show logo (in gold, bronze, or silver color, randomly selected); a 50th anniversary Delta Shield pin; a phaser keychain; a blue, gold, and red lanyard; and one limited-edition mystery item.
So while it's barely 2017, we can already find the 2018 Star Trek Engagement Calendar. And Amazon retails it for $14.99, with delivery in August.
However, if you prefer your calendars with more action, the 2018 Ships of the Line Calendar should be more your speed. And it retails at Amazon for the same price and has the same availability date as the engagement calendar.
So are you ready for a beer? Because I know I am. So let's go grab a Klingon Imperial porter. Shmaltz Brewing Company has got you covered, with this, the first of three limited edition releases for 2017. Coming soon!
Finally, every month (and not just January 2017), we aim to bring you the most exciting, innovative, and practical or just plain mind-boggling Star Trek-related products out there. Also, we thank you for reading!
Jespah (Janet) is our Social Media Director. She has her Master's in Communications (Social Media) from Quinnipiac University and is one of the Klingons of Long Island. She's a retired lawyer, too.

She's also a published author (Untrustworthy, published by Riverdale Avenue Books; QSF Discovery 2 Anthology, published by Mischief Corner Books; and The Longest Night Watch Anthology 1 & 2, published by Writers Colony Press), and a prolific fan fiction writer. You can find her adding her fanfiction to our forums, or live tweeting our show.

We understand that she can be bribed with pie.
Latest posts by Janet Gershen-Siegel (see all)